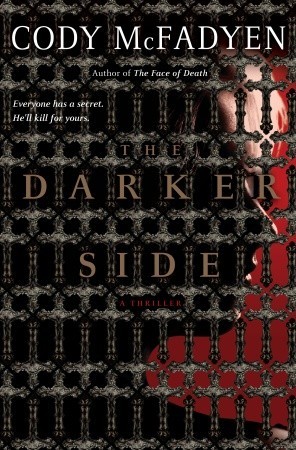 This book isn't exactly new, it was published May last year, but I just got my hands on it last week. So, this book is called 'The Darker Side' by Cofy McFadyen.
The protagonist of this story is Smoky Barret, a FBI Special Agent with a tragic past. Two years ago her husband and daughter were murdered by a serial-killer with a personal grudge. He raped her and cut up her face. Smoky however survived and is once again one of the best Special Agents the FBI has.
That is exactly why she's chosen to investigate a very public murder. A young woman, who is a man, has been murdered on a plane, during a flight. She was stabbedin her right side with something sharp and a small cross with the number 137 was placed inside her body. She turns out to be the son of a politician, who's planning on running for office. Smoky has to try and solve the case, without alerting people to this shocking fact.
Not being interested in politics Smoky focusses on finding the murderer, together with her team. They find a second victim and they realise that the number on the crosses is for the number of victims. Smoky realizes what the killer kills for: sins. Thiss cares her, because she herself has done something which the killer could and would consider a sin. Smoky starts to despare as they can't find any clues, leading them to the killer.
Then the killer reveals himself to them, by uploading videos of his victims in their last hour onto Youtube-like sites. They cannot see his face, but are getting closer and closer to revealing his identity. Will Smoky and her team be able to find him before he kills more people?
This book absolutely captured me. I was unable to put it down. reading untill the late hous, only to then lie in bed and be afraid. This is one of the few books that actually got me scared at night. I finished it in three days.
I was fascinated by Smoky's "background" and her relationship with her adoptive-daughter Bonnie.
Bonnie is an extraordinary character. Her mother was one of Smoky's best friends and that was why she was killed. Her murderer sliced her open and bound Bonnie onto her mother's dead body, where she remainded for three days. Bonnie didn't speak for a very long time afterwards, but she and Smoky share a special bond, because both of them went through terrible events.
Kirby Mitchell is probably my favourite character. She was a killer for the CIA and now helps one of Smoky's team-members organise her upcoming wedding. When the identity of the killer is revealed Kirby goes to him, without letting anyone known. All I'll say is that she survives int he end. She is an incredibly stubborn, crazy and funny character.
Religion is very important in this book and I think it gives an incredible insight into the view that the Roman Catholic church has on sin, but also on how touchy society is on other people's sin. It shows what an impact little sins and secrets have on peoples lives.
First Sentence:
'Dying is a lonely matter.'
(I don't know whether this is the right translation. I got this book in German, so I translated the first sentence. If anyone has an English copy and I got the sentence wrong please let me know in a comment!)
This book is part of a series, so I'm definitly going to try and get the others as well! I'll let you know whether I succeed or not!
Hss a book ever gotten you scared at night?