It's Friday, w
hich means this week is almost at an end, bringing with it the inevitable end of Armchair BEA 2014. It was my first Armchair BEA and I absolutely love it. I definitely know I'll be signing up again next year! Now, today is the last day with topics to write about. I am flying to Germany today and hopefully will be having wi-fi access at the hotel. I won't be able to stop by anywhere during most of the day (for Europeans) but in the evening I'll definitely sneak in a few hours to stop by everyone's posts!
Topic of Choice
Today is the day to talk about something that you feel we have missed or that you want to spend a little extra time chatting about. Ideas include, but are not limited to: a genre that does not fit into those featured earlier this week; logistics, such as blogging resources, procedures, or advice; or something completely fun with book to movie adaptations or favorite blogging games, features, memes, events, and/or activities. It's your freebie day to choose what you like!
Whenever I'm given to much freedom to choose anything my mind draws a complete blank and I have no idea what to write. It's so bad that whenever I'm asked what I want for dinner my mind seems to go into hyperdrive, imagining all the possible options before forgetting what food even is. Rambling aside, I think I want to talk about blogging in itself and how it is perceived. This is partially due to some of the reactions I have gotten from people (in "real life") during this week. After Monday's Twitter Party I was so excited and happy. I can't even put it into words properly and it might be an exaggeration, but I loved being able to chat to so many different people and now that I had something in common with them: a love for books. However, when I told friends and family about it, there were quite a lot of eye rolls and almost derisive snorts. 'Talking to people on Twitter could hardly be considered a party, now could it'. And 'come on, you were only blogging and tweeting, that doesn't count as social interaction'. 'And those hours you spent writing those posts and reading others could've been spent better, surely'. Although I'm sure none of these comments were meant to be hurtful, in a way they were. Most positive comments I get about my blogging are usually regarding how dedicated people feel I am to this 'thing' and although some do see the benefit of it in the sense of me developing my writing skills, they always feel I'm not pushing my blog hard enough to be something intellectual or something money-making, even. Whereas I enjoy this blog being me expressing my feelings about books and book-related topics, it seems that in order for it to be considered an accomplishment it has to be profitable.
I feel book blogging, and being a fan of anything in general, gets quite a lot of flack at times. Here we all are, hundreds of us, sharing a passion we have and making some pretty amazing memories together. And above all, we are having fun and using the Internet to break down barriers between people by showing ourselves what we have in common with each other. I think some people forget how much time and effort goes into writing reviews (something I and many others touched upon in Tuesday's Twitter party) and maintaining a blog. It takes up hours and I give those hours gladly because I enjoy doing this. I just find it sad sometimes that it is then met with derision since it is only an 'online thing' and not real. But what this Armchair BEA has really confirmed for me is that the excitement shared between people is definitely real. I've been in a good mood all week and I've loved interacting with so many different people. And that is why I mainly feel sad for those who don't have something like this in their lives because they are missing out on something!
Wow, that turned into a bit of an unexpected rant! How do you guys feel about this? Do you feel your blog is taken seriously by friends/family?
Middle Grade/Young Adult
Our final genre of discussion is one that we know is a popular one these days: books for the younger crowd, from middle grade to young adult. If you do not normally talk about this genre on your site, maybe you want to feature books that you remember impacting you during this stage in your life. If this is where you tend to gravitate, maybe you want to list your favorites, make recommendations based on genres, or feature some titles that you are excited to read coming later this year.
I quite like reading childrens' fiction, as my review of Howl's Moving Castle will show, but I generally tend to stick with YA to whatever comes after that.
When we discussed our thoughts on Literature on Monday I confessed to being a bit of a snob at times and unfortunately this expressed itself through me rejecting the YA genre quite decisively without really giving it a chance. I thought everything in the YA genre was paranormal and because I had the misadventure of reading quite a bad paranormal nove
l at the beginning of this blog I decided the whole genre wasn't for me, including YA. However, there were two books that really changed my mind.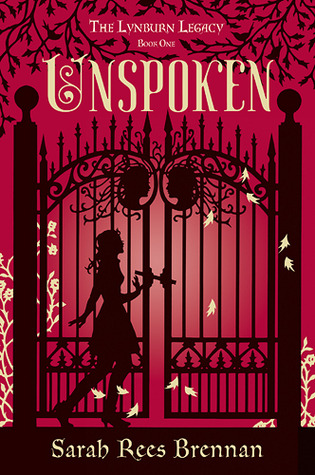 Unspoken by Sarah Rees Brennan.
Kami Glass loves someone she's never met . . . a boy she's talked to in her head ever since she was born. She wasn't silent about her imaginary friend during her childhood, and is thus a bit of an outsider in her sleepy English town of Sorry-in-the-Vale. Still, Kami hasn't suffered too much from not fitting in. She has a best friend, runs the school newspaper, and is only occasionally caught talking to herself. Her life is in order, just the way she likes it, despite the voice in her head.
But all that changes when the Lynburns return.
The Lynburn family has owned the spectacular and sinister manor that overlooks Sorry-in-the-Vale for centuries. The mysterious twin sisters who abandoned their ancestral home a generation ago are back, along with their teenage sons, Jared and Ash, one of whom is eerily familiar to Kami. Kami is not one to shy away from the unknown—in fact, she's determined to find answers for all the questions Sorry-in-the-Vale is suddenly posing. Who is responsible for the bloody deeds in the depths of the woods? What is her own mother hiding? And now that her imaginary friend has become a real boy, does she still love him? Does she hate him? Can she trust him?
Yup, this book pretty much changed the game for me. I requested it on Netgalley because the cover was fun and I needed a read for a long train journey. I did not expect to be laughing out loud in the train. I got very strange looks, trust me. I'm currently rereading it (third time) in order to then start on the 2nd one with the first fresh in my mind. This book definitely changed my mind about the Paranormal genre. Although I'm still not a massive fan, I now know it has its gems
.
Beautiful Disaster by Jamie McGuire.
Abby Abernathy is a good girl. She doesn't drink or swear, and she has the appropriate number of cardigans in her wardrobe. Abby believes she has enough distance from the darkness of her past, but when she arrives at college with her best friend, her path to a new beginning is quickly challenged by Eastern University's Walking One-Night Stand.
Travis Maddox, lean, cut, and covered in tattoos, is exactly what Abby wants—and needs—to avoid. He spends his nights winning money in a floating fight ring, and his days as the ultimate college campus charmer. Intrigued by Abby's resistance to his appeal, Travis tricks her into his daily life with a simple bet. If he loses, he must remain abstinent for a month. If Abby loses, she must live in Travis's apartment for the same amount of time. Either way, Travis has no idea that he has met his match.
I was equally derisive of YA Romance because I'm not a big fan of 'I see you there in that hall way and I know we'll have three children, a house and a dog one day' kind of romances. How excited was I to realize not all YA Romances are like that! Nope, there can be well-written romances involving young adults.
So although I still prefer Classics and Literary Fiction, I appreciate YA a lot more now and have added a good number of them to my TBR pile.