I saw this challenge and knew I had to do it! I know I promised myself not to take on anymore challenges, but this is exactly the challenge I want and need! This challenge is hosted by
Sugar Creek Cottage
.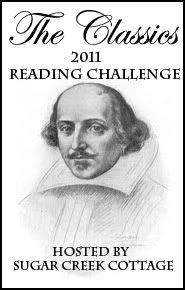 The Rules:
To sign up you MUST make a post on your blog about participating in the challenge - you then use the URL of the post to sign up to the challenge by adding it to Mr Linky below. DO NOT just add your blog URL - this will be deleted.
You must add the button to your sidebar - make sure that it links back to this post so others can join the challenge if they wish. Easiest way to do this is to copy and paste the code displayed above
Details:
Timeline: January 1, 2011 - December 31, 2011
To read EIGHT (8) "Classic" novels in 2011 (8 is the minimum but you can read more if you wish!)
You don't have to select your books ahead of time, you can just add them as you go. Also if you do list them upfront you can change them any time! The books you choose can crossover into other challenges you are participating in.
You can join anytime!
My Reading list, (so far):
Pendennis, by Thackeray
Beowulf
Vanity Fair, by Thackeray
Ulysses, by James Joyce
Le Morte D'Arthur
Tess of the D'Urbevilles, by Thomas Hardy
Das Kapital, Karl Marx (I'm trying to mix up my bookshelves, but this is a classic, in my opinion.)
Animal Farm, by George Orwell
Little Dorit, by Charles Dickens
Mourning Becomes Electra, by Eugene O'Neill (a play)
It's a shame I've already read the Illiad, Odysse and Aeneid! and all the Austen's and Brontee's. But I can always read them again of course!