Friday Memes and 'When We Were Animals' by Joshua Gaylord
This is the Friday on which I officially accept my offer to St. Andrews! It is a tense, exhilarating and nervous day all at once, which is quite a lot of emotions for just one day. But before I wax lyrical about my emotions, let's move on to some memes and have a good time!
Follow Friday
is hosted by
Alison Can Read
and
Parajunkee
and this week's question was suggested by
Eternity Through Pages
:
Have you ever been inspired by a book character to do something? Who was the character and what was it?
Great question! In a "spiritual" sense (I know, how very pretentious), quite a lot of characters have convinced me to have a more independent and proud, in a good sense, attitude towards life. Hermione in the
Harry Potter
books has definitely inspired me to be proud of my desire to learn and that being passionate for something isn't a bad thing. On a different, more practical level,
Pride and Prejudice
and
Wuthering Heights
always make me want to go hiking more! I love the descriptions of nature in these books and make me desperate to just GO OUTSIDE! That probably isn't what I should be taking away from those books...
Book Blogger Hop
is hosted by Billy over at
Ramblings of a Coffee Addicted Writer
and this week's question was suggested by Elizabeth over at
Silver's Review
:
Do you read more on a rainy day or on a gorgeous day so you can be outside?
Aah, see, I love the sound of rain on the roof! It's one of my favourite sounds ever. I really enjoy having it in the background while I read. Similarly, I love reading while the sun shines through the windows! So basically, I have no idea how to answer this question! I do like reading outside, so if the sun shines I tend to just pull up a chair in the sunshine. Maybe one day I'll catch a tan in that way!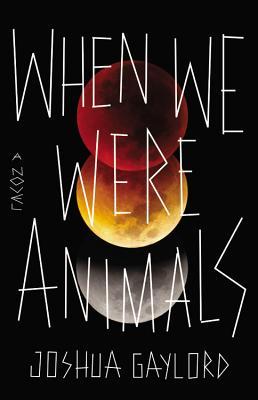 Book Beginnings
and
Friday 56
are hosted by Gilion over at
Rose City Reader
and Freda over at
Freda's Voice.
This week I'm using
When We Were Animals
by Joshua Gaylord.
A small, quiet Midwestern town, which is unremarkable save for one fact: when the teenagers reach a certain age, they run wild.

When Lumen Fowler looks back on her childhood, she wouldn't have guessed she would become a kind suburban wife, a devoted mother. In fact, she never thought she would escape her small and peculiar hometown.

When We Were Animals

is Lumen's confessional: as a well-behaved and over-achieving teenager, she fell beneath the sway of her community's darkest, strangest secret. For one year, beginning at puberty, every resident "breaches" during the full moon. On these nights, adolescents run wild, destroying everything in their path.

Lumen resists. Promising her father she will never breach, she investigates the mystery of her community's traditions and the stories erased from the town record. But the more we learn about the town's past, the more we realize that Lumen's memories are harboring secrets of their own.

A gothic coming-of-age tale for modern times,

When We Were Animals

is a dark, provocative journey into the American heartland.
Does this not just sounds incredibly exciting?
BB
:
'For a long time, when I was a girl, I was a very good girl. You should have known me then. You would have liked me. Shy, undergrown, good in school, eager to please. At the dinner table, especially when my father and I went visiting, I didn't eat before others, and I sometimes went without salt because I was too timid to ask anyone to pass it. 1%
I really liked this beginning
F56
:
'Routine is important for people like me. It keeps us anchored in reality. It's how we keep from spinning off into the ether.' 56%
I definitely know what the author means! When it feels as if everything might go to pieces it feels great to have a routine that you can rely on.
So, that was my week! I am really looking forward to starting
When We Were Animals
, it sounds so good!