It is the end of term here! I now have a month off in which I have to write all of my essays and the dreaded dissertation. I love my dissertation, it's my baby, but it is as annoying as I'm assuming my future children will be as well! Let's move on to the memes before I start pouring my heart out to you all.
Follow Friday
is hosted by
Alison Can Read
and
Parajunkee
. This week's question was suggested by
The Paperback Princess
:
Have you ever been to BEA? If not, what's stopping you? If you have, what was your best experience there?
Great question! But also one that makes me a little bit sad. I would love to actually go to BEA, were it not that America is a long and expensive way away from where I am. Last year, however, I "attended"
Armchair BEA
for the first time and that was absolutely amazing! Not only was it really interesting reading everyone's posts, I was also introduced to the complete and utter fun that is Twitter chats. It was a great time and I can't wait for Armchair BEA time to come around again!
Book Blogger Hop
is hosted by Billy over at
Ramblings of a Coffee Addicted Writer
. This week's question was suggested by Elizabeth over at
Silver's Review
:
Which books have you read in the past month that still have you thinking back to the storyline and the characters?
I just finished reading
When We Were Animals by Joshua Gaylord
, which I can't forget about. It was simply fascinating and I loved the prose as well. Same goes for
The Man Who Was Thursday by G.K. Chesterton
, which is such a baffling book that I will have to reread it soon, just to make sure I actually understood it properly. I love it when books stay with you like that and it always make me slightly sad when I read a book that just sinks into insignificance after the last page.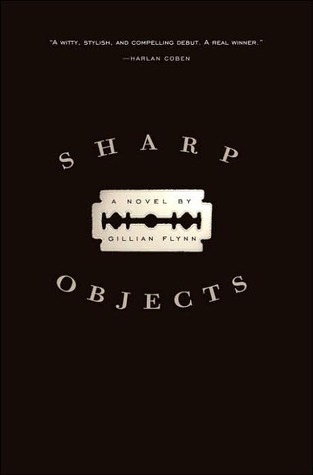 This week I am using a book which I bought two weeks ago and started reading this week. I love it so far. It is dark and twisted, as I was expecting, and it is quickly working its way up my favourites list! I am talking about
Sharp Objects
by Gillian Flynn. I figured I'd give this one a try before embarking on
Gone Girl
and I am desperate to get onto that one now!
WICKED above her hipbone, GIRL across her heart Words are like a road map to reporter Camille Preaker's troubled past. Fresh from a brief stay at a psych hospital, Camille's first assignment from the second-rate daily paper where she works brings her reluctantly back to her hometown to cover the murders of two preteen girls.
NASTY on her kneecap, BABYDOLL on her leg Since she left town eight years ago, Camille has hardly spoken to her neurotic, hypochondriac mother or to the half-sister she barely knows: a beautiful thirteen-year-old with an eerie grip on the town. Now, installed again in her family's Victorian mansion, Camille is haunted by the childhood tragedy she has spent her whole life trying to cut from her memory.
HARMFUL on her wrist, WHORE on her ankle As Camille works to uncover the truth about these violent crimes, she finds herself identifying with the young victims—a bit too strongly. Clues keep leading to dead ends, forcing Camille to unravel the psychological puzzle of her own past to get at the story. Dogged by her own demons, Camille will have to confront what h

appened to her years before if she wants to survive this homecoming.
Doesn't it sound fascinating? Book Beginnings

and

Friday 56

are hosted by Gilion over at

Rose City Reader

and Freda over at

Freda's Voice.
BB
:
'My sweater was new, stinging red and ugly. It was May 12 but the temperature had dipped to the forties, and after four days shivering in my shirtsleeves, I grabbed cover at a tag sale rather than dig through my boxed-up winter clothes. Spring in Chicago.' p.1
I liked this beginning, although it wasn't exactly the most gripping of beginnings. You do get a sense of what kind of person Camille is though and it reminded me of the few days I spent in Chicago in spring, so that was fun as well!
F56
:
'I wished then that I hadn't sucked down so much vodka. My thoughts were vaporizing, I couldn't hold on to what he was saying, couldn't ask the right questions.' p.56
Alcohol tends to do that to you! But it sounds to me like Camille has deserved a drink, or twenty, considering what she went through!
So, that's me for this week! I actually have time this morning to visit everyone and then it's off to go see Cinderella with my housemates! Have you been to BEA? And which book has stuck with you?