Waiting for Wednesday: The Racketeer
I am really bad at this meme because I never keep up with release dates and usually buy books when I find them in a secondhand bookstore. But, surprise surprise, I have an answer for today! Waiting for Wednesday is hosted by Breaking the Spine!
Title: The Racketeer
Author: J
ohn Grisham
Publisher: Knopf Doubleday Publishing Group
Release Date: 23. October 2012
Given the importance of what they do, and the controversies that often surround them, and the violent people they sometimes confront, it is remarkable that in the history of this country only four active federal judges have been murdered.

Judge Raymond Fogletree just became number five.

His body was found in the basement of a lakeside cabin he had built himself and frequently used on weekends. When he did not show up for a trial on Monday morning, his law clerks panicked, called the FBI, and in due course the agents found the crime scene. There was no forced entry, no struggle, just two dead bodies—Judge Fogletree and his young secretary.

I did not know Judge Fogletree, but I know who killed him, and why.

I am a lawyer, and I am in prison.

It's a long story.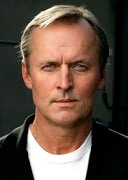 I really like the synopsis of the book. It is a crime novel, with a bit of thriller element. I quite like court dramas, so I think I should enjoy this one. Also, I really like John Grisham's writing style and most of the times when I see his books in a store I'll buy one. I am slightly pissed off though because while browsing through his list of books and he has a book called 'A Painted House'. I have a story idea that involves a painted house so I rushed to find a synopsis and thankfully it's completely different from my idea, but still. On a side note, Grisham looks a bit like an old James Bond, don't you think?
So, what are you waiting for this week?