Friday, I'm in Love
Congrats to Alison Can Read and Parajunkee on the 100th Follow Friday. There is no question this week around but you get to present a blog you really enjoy, so I chose: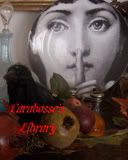 There are so many brilliant blogs to choose from which made it really difficult to pick one!
But not only do I love the background on her blog and her button but I also enjoy her reviews! So, check her blog out!
Today, the book I'll use for Book beginnings (
Rose City Reader
) and Friday 56 (
Freda's Voice
) is 'Amelia' by Henry Fielding. I quite like Fielding, so this should be good, hopefully.
BB:
THE VARIOUS ACCIDENTS which befel a very worthy couple after their uniting in the state of matrimony will be the subject of the following history. The distresses which they waded through were some of them so exquisite, and the incidents which produced these so extraordinary, that they seemed torequire not only the utmost malice, but the utmost invention, which superstition hath ever attributed to Fortune;
Yup, sounds good. It looks to be the perfect mix between the funny and the tragic.
F56:
She trembled, turned pale, and discovered how well she understood me, by a thousand more symptoms than I could take notice of, in a state of mind so very little different from her own.
Amelia and Captain Booth are talking about love and trust me, if I was talking bout love with the one I loved, I would most definitely be trembling as well!
I always punch myself for not participating in
TGIF
, so this week: I AM!
Cast Your Own Story: If you could use existing characters from some of your favorite books to create a new story, who would be in it?
I am really bad at remembering books when I have to. This is one of the reasons why I might fail my English exam. It also leads to me taking ages to answer this question.
It would definitely have to be set in a forest because I love forests. I would imagine a group of wary warriors
having
to travel through the dark forest (imagine it a bit like Fangorn from LOTR or the Forbidden Forest in HP) in order to get to the Mountains in which they have to slay a dragon. In the male corner we would have maybe Gimli and Legolas, because their arguments (especially in 'The Two Towers') make me laugh.
Otori Takeo
from 'The Tales of the Otory' by Lian Hearn. He is intelligent , quick and can walk across a nightingale floor which could come in handy if you're warriors.
For the females, we'd have Momo from Michael Ende's 'Momo'. Although she is only a child, she is very strong and courageous and she can listen, really listen. She could solve whatever problems we ran into. I'd also be quite happy with Hermione from 'Harry Potter', she is brilliant, so navigating our band of warriors through the forest shouldn't be a problem for her,
How about you? Leave a link in the comments!