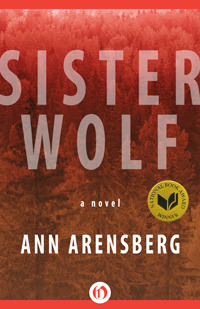 Today I'm featuring a book which I've just finally started, which is really a little bit too late. I am talking about
Sister Wolf by Ann Arensberg
which I requested ages ago from Netgalley and Open Road Media.
In the picturesque Berkshire Hills of Massachusetts, Marit Deym lives alone on a thousand-acre inheritance from her aristocratic Hungarian parents. Though bright and attractive, she is a stranger to the complexities of human relationships. She keeps to herself, venturing out only to defend her one passion: the care of her wild animals--the lynx, bears, fox, and family of wolves for whom she has established a sanctuary on her land.
Then the wolves bring to her door Gabriel Frankman--a thoughtful young teacher at the nearby school for the blind, lost hiking in the woods. Despite his fear of the wild creatures, Gabriel seems oddly calm in their presence. For Marit, too, there is an immediate, consuming connection to the stranger--the first of her life. But it is a dangerous one. Soon her love of Gabriel will bring forth an unspeakable tragedy: to an innocent life, herself, and her precious animals.
It sounds good, no?
Book Beginnings
and
Friday 56
are hosted by Gilion over at
Rose City Reader
and Freda by
Freda's Voice
respectively.
BB
:
'Between eight and nine on a June night in the highest corner of the Berkshire Hills, there is still some light to see by. On nights when the wind is high and the clouds are racing, the light in the sky is an unstable tinge, reading white, gray, gray-green, yellow-green, and smoke-yellow. BY the gray-green rays Marit Deym prowled the hallway of the story under the eaves, using the turret window at one end of the corridor as a lookout for the closed can that should have pulled into the driveway an hour before. The van was coming from the Dangerfield Zoo, an easy trip on the interstate highway, but Marit had instructed the driver to take the long route on unnumbered back roads. If the van had left Dangerfield at six-thirty, there was no chance that it would meet the police patrol car, which made its scheduled rounds at eleven o'clock.' 1%
It definitely sounds like Marit has got it all figured out and yet clearly something hasn't gone according to plan. I thought about not sharing the whole paragraph but it was simply too complete as one to not. I quite like how she's 'prowling', it fits with the whole wolf-theme.
F56
:
'Death's interest in Marit was only theoretical, but his pupil had a literal turn of mind.' 56%
So, I have no idea what's happening but I loved the sound of this teaser. I mean, why is Death personified and what does he have to do with anything? I'm definitely intrigued by this teaser though which is why I decided to share it with you.
What do you think of
Sister Wolf
? Does it sound like your kind of book>