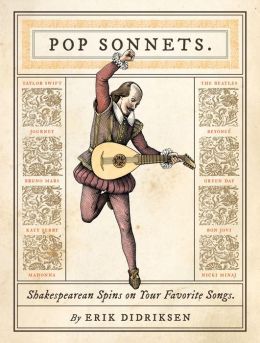 Every once in a while you'll get a book coming your way that simply brightens up your day. For me
Pop Sonnets
has become one of those books. Although I was initially a little bit sceptical I should've trusted in Quirk Books since they always deliver amazing books, especially Shakespeare-related. Thanks to Quirk Books and Netgalley for providing me with a copy of this book in exchange for an honest review.
Pub. Date
: 06/10/2015
Publisher
: Quirk Books
The Bard meets the Backstreet Boys in

Pop Sonnets

, a collection of 100 classic pop songs reimagined as Shakespearean sonnets. All of your favorite artists are represented in these pages—from Bon Jovi and Green Day to Miley Cyrus, Beyoncé, and beyond. Already a smash sensation on the Internet—the Tumblr page has 20,000+ followers—

Pop Sonnets

has been featured by the A.V. Club, BuzzFeed, and

Vanity Fair,

among many others. More than half of these pop sonnets are exclusive to this collection and have never been published in any form.
Before I discuss these sonnets a bit closer I probably have to explain why I was hesitant about
Pop Sonnets
at the beginning. I can hear you shouting, 'How could you not immediately love the idea of an Iggy Azalea song in iambic pentameter?'. I can be quite protective of my favourite classics, which is what stops me from reading Jane Austen adaptations, for example. I love Shakespeare's plays and hence I can be sceptical about his constant use as reference in popular culture. His plays have sparked some great 90s high school movies, but they have also led to some utter catastrophes.
Pop Sonnets
sounded too funny to pass up on though, despite my worries, and I am immensely glad that I did because it had me laughing out loud.
Didriksen quite simply does an amazing job in
Pop Sonnets
. Not only did he manage to pick out a great selection of songs, his "translation", or rather adaptation I guess, into the Shakespearian sonnet form is simply quite astounding. Everyone who has had to read Shakespeare's sonnets in high school knows that the form can be quite difficult to make sense of, let alone adapt easily. Didriksen makes it seem as if it's easy, adapting songs from the last few decades with hardly a problem. Aside from that there is also simply the pure joy of reading a line like:
'No suitor's vows of love shall I attend
deliver'd from the carriage of his friend.'
I hope you all recognize that as TLC's 'No Scrubs'! It's just the best!
Split into a number of different sections, i.e. love sonnets, sonnets about despair, etc.,
Pop Sonnets
is surprisingly easy to just keep reading one sonnet after the other. They will have you laughing and giggling, but what's also really fun about
Pop Sonnets
is that Didriksen doesn't reveal the title of the song until after the sonnet. Because of that the book almost feels like a puzzle book as you try to figure out through little hints which songs Didriksen is adapting. It makes for a great time and this would be an ideal coffee table book, in all the best meanings of the term!
I give this book...
4 Universes!
I absolutely loved
Pop Sonnets
, all the way from 'Never Gonna Give You Up' to 'My Way'. Shakespeare would have loved this book himself, absolutely enjoying the creativity of Didriksen's use of language.
Pop Sonnets
is fun and is a great thing to share with friends as well. I'd recommend it to fans of Shakespeare and general popular culture content.