Yesterday the news broke that
Blackwells
has discovered an annotated map of Middle-Earth in the collections of Pauline Baynes, the acclaimed illustrator who has worked not only with Tolkien but also made the universally recognized paperback cover for Lewis'
The Lion, the Witch and the Wardrobe
. Pauline Baynes was chosen by Tolkien himself as illustrator for his works after he saw some of their drawings and although from her diaries it's clear they didn't always get along perfectly they did develop a strong friendship. She made poster-size versions of his maps of Middle-Earth, which required some close working together between her and Tolkien:
'On 21 August 1969, Baynes describes a visit to Tolkien and his wife in Bournemouth, "to chat about a poster map I have to do - he very uncooperative".The author later apologies for having "been so dilatory", and a later lunch sees the author "in great form - first names and kissing all round - and pleased with the map".' - Guardian
This process of working together is what led to the map which has now been discovered. As you can see in the image below Tolkien took the map drawn by Baynes and scribbled little notes all over it, from name changes or specifications to other notes such as 'FIR' next to Mirkwood, which I'm thinking must be either an abbreviation or a reference to the sorts of trees he thoughts would be there. This map is a fascinating little insight into Tolkien's mind and also a confirmation of his constant work on and care for the world and myths he had created. It's proof of Tolkien's own hand in creating one of the most iconic images of
The Lord of the Rings
. I myself have spend endless hours poring over this map, tracking the journeys of
The Hobbit
and the Fellowship, imagining other adventures that could have happened in those Misty Mountains.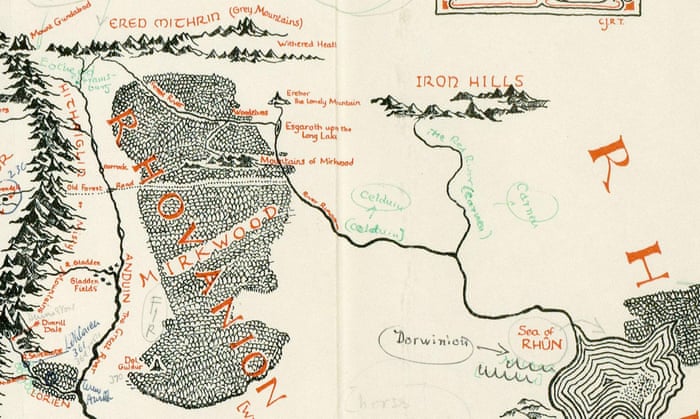 Besides the map Blackwells is also selling Baynes' notebooks which actually offer some of the most exciting news. The notebooks reveals a number of interesting sources of inspiration behind some of Tolkien's most iconic creations. One of these is that Hobbiton is on the same lattitude as Oxford, where Tolkien worked as a Professor, which explains why it gives off such a strong sense of 'Englishness'. Something else mentioned by the Guardian is that Ravenna, one of Italy's most interesting cities, as a template for the capital of Gondor, Minas Tirith. Ravenna has a fascinating history which spans the Roman and the Byzantine Empire. The Italian influence was always quite clear in Minas Tirith and is also something that was consciously picked up by the art department of Peter Jackson's film trilogy.
Other cities mentioned to have offered inspiration are Belgrade, Cyprus and Jerusalem. Personally I am absolutely fascinated by this new information because I'd always imagined Middle-Earth to roughly span Europe, with Mordor lying where we'd picture Germany. Shows you how one can delude themselves. I hope that there will be loads of speculation and discussion about which places these and other cities could have inspired.
And we can only agree with Henry Gott when he says this map is:
'"an exciting and important discovery: new to scholarship (though its existence is implied by correspondence between the two), it demonstrates the care exercised by both in their mapping of Tolkien's creative vision."'
All the quotes and images in this post are taken from the
Guardian
.