Friday Memes, A Bit of Fry & Laurie and Atwood's 'Oryx and Crake'
This is my last Friday in Chamonix (cue sad music) but I've had a great holiday despite now looking a little bit like a lobster. I might post some pictures once I'm home but I did put up some on
my Instagram
, in case you want to see some mountains! But Friday is a day for memes and I very much like all the ones below.
Book Blogger Hop
is hosted by Billy over at
Ramblings of a Coffee Addicted Writer
and this week's question was submitted by Elizabeth from
Silver's Reviews
.
Do covers pull you in?
Great question to which there is quite an easy answer. Covers are definitely a major draw but they can also be a massive turn-off. Sometimes I really can't stand the cliched romance novel covers with the posed couple. Back in the day they were disgustingly romantic, nowadays they usually feature a couple halfway through sex! I tend to be drawn to more abstract covers, in the sense that I prefer it if a cover features artwork or some kind of design rather than a picture. If I see one of those on Netgalley I'm always drawn to it.
Take the two covers above, the classic
A Clockwork Orange
by Anthony Burgess and
Bête
by Adam Roberts. Although the two don't seem to have a lot in common design wise, both really draw me in because they're different and they're art, in their own right.But the cover doesn't tend to be the decisive factor. Although a cover might draw me in, I don't read it unless the synopsis is good. Also, yesterday I found this website,
The Book Cover Archive
which is exactly what it says on the tin: an archive of innumerous covers. It's amazing to browse through and I sort of want all of them as posters!
Follow Friday
is hosted by
Alison Can Read
and
Parajunkee
and this week's question is a lot of fun:
Post a funny Youtube video (doesn't have to be book related)!
I love Youtube, potentially a little bit too much. One of the main reasons I got addicted to it was because it has all of the episodes of some of my favourite comedy shows on it, such as
Who's Line Is It Anyway
,
That Mitchell and Webb Look
and, of course,
A Bit of Fry And Laurie
. And it's from the latter that I'm sharing one of my absolute favourite sketches. This one always makes me laugh! It's called... 'Oprah Winfrey'.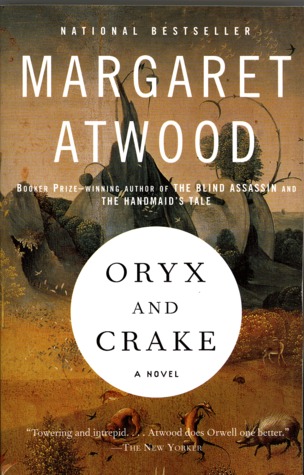 Book Beginnings
and
Friday 56
are hosted by Gilion at
Rose City Reader
and Freda over at
Freda's Voice
respectively. This week I'm using
Oryx and Crake
by Margaret Atwood. I was accepted for Atwood's
MaddAddam
on Netgalley which is the final book in a trilogy, so now I'm trying to read the others relatively quickly, although I think they both have about 450 pages.
Oryx and Crake

is at once an unforgettable love story and a compelling vision of the future. Snowman, known as Jimmy before mankind was overwhelmed by a plague, is struggling to survive in a world where he may be the last human, and mourning the loss of his best friend, Crake, and the beautiful and elusive Oryx whom they both loved. In search of answers, Snowman embarks on a journey–with the help of the green-eyed Children of Crake–through the lush wilderness that was so recently a great city, until powerful corporations took mankind on an uncontrolled genetic engineering ride. Margaret Atwood projects us into a near future that is both all too familiar and beyond our imagining.
BB
:
'Snowman wakes before dawn. He lies unmoving, listening to the tide coming in, wave after wave sloshing over the various barricades, wish-wash, wish-wash, the rhythm of heartbeat. He would so like to believe he is still asleep.' p.1
The novels are post-apocalyptic and I think this beginning sort of makes that clear. So far Snowman (actually called Jimmy) is quite a sympathetic character and I quite like how Atwood is building up this post-apocalyptic world.
F56
:
'Several years passed. They must have passed, thinks Snowman: he can't actually remember much about them except that his voice cracked and he began to sprout body hair.' p.56
This is Snowman reminiscing, I think. Snowman is quite funny in how laconic he seems to be, but then some of his memories are quite detailed. I hope this one keeps developing as well as it is now!
So, this was my post for today! Hop over to
my review for The Time Machine
if you feel like it or leave a link in the comments to your own meme post!