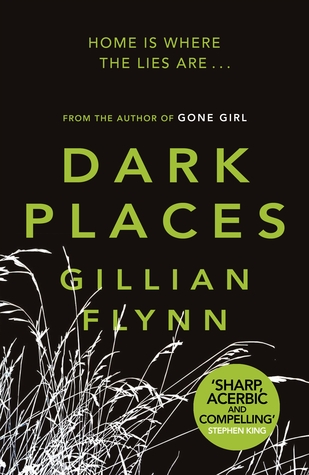 I read
Sharp Objects
last year and I'm not going to lie, it changed me a little bit. Since then I've kept my eyes open and I found a copy of
Dark Places
which I'm going to start soon. So I thought I'd share some teasers with you in order to tease myself into starting it soon as well!
Libby Day was just seven years old when her evidence put her fifteen-year-old brother behind bars.
Since then, she has been drifting. But when she is contacted by a group who are convinced of Ben's innocence, Libby starts to ask questions she never dared to before. Was the voice she heard her borther's? Ben was a misfit in their small town, but was he capable of murder? Are there secrets to uncover at the family farm or is Libby deluding herself because she wants her brother back?
She begins to realise that everyone in her family had something to hide that day... especially Ben. Now, twenty-four years later, the truth is going to be even harder to find.




Who did massacre the Day family?
Sound good, no?
Tuesday Intros
and
Teaser Tuesdays
are hosted by Diane over at Bibliophile by the Sea and Jenn over at
Books and A Beat
.
Intro
:
'Libby Day
NOW
I have a meanness inside me, real as an organ. Slit me at my belly and it might slide out, meaty and dark, drop on the floor so you could stomp on it. It's the Day blood. Something's wrong with it. I was never a good little girl, and I got worse after the murders. Little Orphan Libby grew up sullen and boneless, shuffled around a group of lesser relatives - second cousins and great-aunts and friends of friends - stuck in a series of mobile homes or rotting ranch houses all across Kansas.' p.1
I like this beginning because I immediately recognize it as Flynn's writing style. I always loved how dark her writing is and it feels so honest.
Teasers
:
'They sat on the porch swing as always, despite the chill, their heads rigidly straight, lest I muddy their view. I stood with my hands on my hips, on top of my hill, and waited until one finally caved.' p.135
I wonder what's happening right now in the story but I like that she's power-stancing. Whenever you have to stare down someone it's the best method to getting everything done.
Does
Dark Places
sound like something you'd like to read?