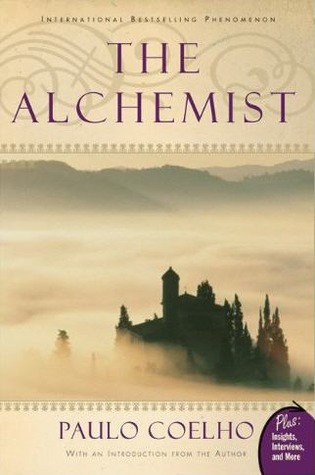 Today I'm sharing one of my 100 Classics list reads because I've FINALLY tracked down a copy of it after years of wanting to read it. I guess I could've just bought one but I wasn't sure if I'd like it so I've been trawling through libraries. But I can finally share my quotes from
The Alchemist
with you, the book that was a massive hit and that I then heard nothing about ever again.
Paulo Coelho's enchanting novel has inspired a devoted following around the world. This story, dazzling in its powerful simplicity and inspiring wisdom, is about an Andalusian shepherd boy named Santiago who travels from his homeland in Spain to the Egyptian desert in search of a treasure buried in the Pyramids. Along the way he meets a Gypsy woman, a man who calls himself king, and an alchemist, all of whom point Santiago in the direction of his quest. No one knows what the treasure is, or if Santiago will be able to surmount the obstacles along the way. But what starts out as a journey to find worldly goods turns into a discovery of the treasure found within. Lush, evocative, and deeply humane, the story of Santiago is an eternal testament to the transforming power of our dreams and the importance of listening to our hearts.
Book Beginnings
and
Friday 56
are hosted by Gilion over at Rose City Reader and Freda at Freda's Voice, respectively.
BB
:
'The boy's name was Santiago. Dusk was falling as the boy arrived with his herd at an abandoned church. The roof had fallen in long ago, and an enormous sycamore had grown on the spot where the sacristy had once stood.' p.3 (first page)
I like the simplicity of Coelho's writing so far. A lot of it is very "easy", with the moral being spelled out without being annoying. Potentially, however, I might not love that style of writing for the rest of the book.
F56
:
'"All who went there were happy at having done so. They placed the symbols of the pilgrimage on the doors of their houses. One of them, a cobbler who made his living mending boots, said that he had traveled for almost a year through the desert, but that he got more tired when he had to walk through the streets of Tangier buying his leather."' p.56
I loved this description of the pilgrimage to Mecca. It's such an important thing to Islam and I love finding out more about it. I like the mix of cultures Coelho has in this book, even if it's all about alchemy.
Have you read
The Alchemist
? Or have you heard about it?