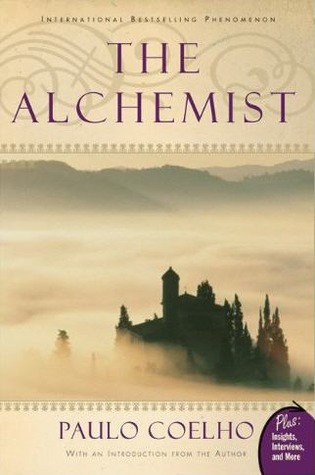 Ticking off another Classics read! I've been fascinated by
The Alchemist
ever since I heard about it in the late 2000s, even though it originally came out in the same year I was born. I have chased down this book for the last few years, wondering why I can't find it and if I even really want to read it. But then the local library here in St. Andrews actually had a copy and I raced through it in a day.
Pub. Date
: 05/1993
Publisher
: HarperCollins
Paulo Coelho's enchanting novel has inspired a devoted following around the world. This story, dazzling in its powerful simplicity and inspiring wisdom, is about an Andalusian shepherd boy named Santiago who travels from his homeland in Spain to the Egyptian desert in search of a treasure buried in the Pyramids. Along the way he meets a Gypsy woman, a man who calls himself king, and an alchemist, all of whom point Santiago in the direction of his quest. No one knows what the treasure is, or if Santiago will be able to surmount the obstacles along the way. But what starts out as a journey to find worldly goods turns into a discovery of the treasure found within. Lush, evocative, and deeply humane, the story of Santiago is an eternal testament to the transforming power of our dreams and the importance of listening to our hearts.
The Alchemist
is an incredibly short and simple read. Stretching for roughly a 150 pages (depending on your edition). Having recently finished
Les Miserables
I have dealt with the big classic, the book that covers hundreds if not thousands of pages and feels completely and utterly non-accessible. So there's something charming about a novel where the most complicated word is
alchemy
. On the other hand
The Alchemist
deals with one of the most intense and complicated themes in literature: the pursuit of happiness.That combination between simple and complex is what made
The Alchemist
automatically interesting to me. As one of the characters in the book explains to Santiago, too often the reason that simple things are written down or said in difficult words is to make the one who says or write it feel smarter, not because the thing itself requires complexity. And when it comes to something as "simple" as listening to your heart, why make it hard for people to understand?
Coelho gets straight into Santiago's story, straight into his mind while staying slightly outside it as well. I've just praised Coelho's simplicity of writing but it would be best illustrated with a quote:
'He decided to return to his friend's stable by the longest route possible. As he walked past the city's castle, he interrupted his return, and climbed the stone ramp that led to the top of the wall.' p.27
This is very simple writing, one thing happens, it's followed by the next and all he's doing is describing a journey. But then all of
The Alchemist
is largely metaphorical. The climb up the ramp is also Santiago consciously getting on top of his own thoughts, struggling up hill, etc. Initially it took me some getting used to because I needed some time to see the subtext, to accept the metaphors. Because
The Alchemist
is also littered with one-liners that will hit you too quickly if you haven't kept up with Coelho's bare prose. Because the beauty is that you have to go through all the simple prose, take in all the little, seemingly insignificant moments, to understand the big message.
'Remember that wherever your heart is, there you will find your treasure.' p.120
So, how do you read a book about happiness? And can the reader actually accept the answer the author suggests? Coelho seems to be intensely aware how personal the search for happiness and fulfilment is for everyone and it expresses itself even in how he himself willingly puts his work online for fans to read. He wants everyone to get a fair and equal shot at exploring his work and applying it to themselves. I do have to admit that, for me, his philosophy feels a little bit too sweet and soft. My inner cynic refuses to accept that you have to open yourself up to your own heart and that can be it. But due to Coelho's writing it feels utterly possible that finding happiness and truth one has to return to one's self and read the omens of nature. I think overall the thing that I took away from
The Alchemist
is that simplicity is beautiful and that just because something looks difficult doesn't mean that it is.
I give this book...
4 Universes!
I needed some time to get into
The Alchemist
but I was really intrigued once I got into it. Coelho has a lot to offer and the way in which he does it is really refreshing. It's one of the "youngest" classics on my list but it's definitely one I will have to reread. I'd recommend it to fans of philosophical reads.