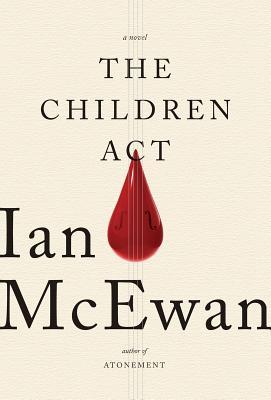 Ian McEwan is an author whose books are recognized as classics and as part of the British Canon while he is alive, which is something of a rarity.
Atonement
, to name only one, has definitely deserved its place among some of the best, "recent" books to come out of England. It was with great pleasure, then, that I started this book and I wasn't disappointed.
Fiona Maye is a leading High Court judge, presiding over cases in the family court. She is renowned for her fierce intelligence, exactitude and sensitivity. But her professional success belies private sorrow and domestic strife. There is the lingering regret of her childlessness, and now, her marriage of thirty years is in crisis.
At the same time, she is called on to try an urgent case: for religious reasons, a beautiful seventeen-year-old boy, Adam, is refusing the medical treatment that could save his life, and his devout parents share his wishes. Time is running out. Should the secular court overrule sincerely held faith? In the course of reaching a decision Fiona visits Adam in hospital – an encounter which stirs long-buried feelings in her and powerful new emotions in the boy. Her judgment has momentous consequences for them both.
McEwan writes about people and especially about their relationships with each other. The only other book I have read by him was
On Chesil Beach
, which was a stunning character-sketch of a young couple just married. What I enjoyed about that book was the intricacy with which McEwan described the characters' mindset. He does the same for his main character in
The Children Act
and somehow manages to describe her actions and emotions in a way that is both intimate and yet distant enough to allow the reader to occasionally sit back and consider her actions. However, it also means that at times the novel is very intensely personal. As a reader, you are dragged into her life and forced to witness a marriage in crisis, law cases about children and some heavy emotional and religious issues. There is no way of escaping her story and I quite enjoyed that McEwan makes the reader stay with Fiona.
The narrative of
The Children Act
develops in a really intimate way. McEwan keeps it very close to his main character, Fiona, and therefore as the novel progresses the reader grows closer and closer to her and starts caring about what happens to her. Whereas initially you might not understand some of her actions, at the end you can at least understand, if not agree, with them. Fiona is a great character. I really enjoyed seeing a woman who is so capable at her work and determined, while also, naturally, being very human and therefore conflicted and emotional. Too often either one of these sides overshadows the other one and it just leaves the reader unsatisfied with an incomplete character. Not so in
The Children Act
. Although at times I wished for the chance to see things from a different character's perspective, I was very happy with following Fiona on her journey.
As such, McEwan's writing style doesn't need praise, or criticism, from me. He writes clearly and succinctly, not skirting around anything that might be hard or difficult. I really felt myself drawn into the story and wanted to keep reading. Partly McEwan does this by setting up two different story-lines, that of Fiona and her personal life and her court cases and professional life. This opposition between personal and private is something everyone struggles with and I thought it was really interesting to see McEwan pick this up. Whereas
On Chesil Beach
felt very detached from reality and
Atonement
is historical,
The Children Act
is very current and contemporary. This means that although Fiona is almost a generation removed from me, I recognized the world she was living in and the people she had to deal with. I also got the feeling he did quite some research into the British legal system and it really showed it the book that he knew what his characters would logically do next.
I give this novel...
4 Universes.
McEwan produces another novel which explores men and women and their relationships. There are some great characters which all add to creating a very interesting story. I would recommend this to people who enjoy McEwan's previous books and those that are interested in legal dramas. However, anyone who wants to read a good book and sink into a character's skin should definitely pick up
The Children Act
as well!