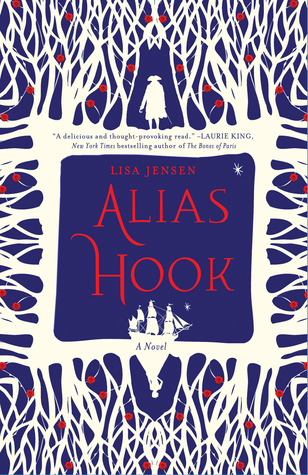 Fairy tale adaptations are always hit and miss for me. How much can authors retain of the atmosphere of a fairy tale while reinventing it? I started
Alias Hook
hoping it would live up to my reputation and I definitely wasn't disappointed.
"Every child knows how the story ends. The wicked pirate captain is flung overboard, caught in the jaws of the monster crocodile who drags him down to a watery grave. But it was not yet my time to die. It's my fate to be trapped here forever, in a nightmare of childhood fancy, with that infernal, eternal boy."
Meet Captain James Benjamin Hook, a witty, educated Restoration-era privateer cursed to play villain to a pack of malicious little boys in a pointless war that never ends. But everything changes when Stella Parrish, a forbidden grown woman, dreams her way to the Neverland in defiance of Pan's rules. From the glamour of the Fairy Revels, to the secret ceremonies of the First Tribes, to the mysterious underwater temple beneath the Mermaid Lagoon, the magical forces of the Neverland open up for Stella as they never have for Hook. And in the pirate captain himself, she begins to see someone far more complex than the storybook villain.
With Stella's knowledge of folk and fairy tales, she might be Hook's last chance for redemption and release if they can break his curse before Pan and his warrior boys hunt her down and drag Hook back to their neverending game.

Alias Hook

by Lisa Jensen is a beautifully and romantically written adult fairy tale.
Let me start by saying I greatly enjoyed reading a romance that had genuine adults in it. The recent tradition of having 16-year olds find love in high-school that lasts for all eternity is one that is severly jarring. Not only does it feel incredibly fake, it also doesn't allow for a lot of development since most teenagers are pretty self-absorbed. The idea of an adult sacrificing themselves for another is much more believable than two children doing so. Jensen manages to create two characters who have depth separately. What I mean by that is that both Hook and Stella are interesting and complex, with their own background stories and emotions. Both hold the readers' attention and affection and together they work even better. You cannot help but genuinely care for their relationship, which means that the reader inevitably finds himself on Hook's side. Although this is, of course, Jensen's plan, it does occasionally happen in fairy tale adaptations that the twist never quite works. Thankfully the adaptation works beautifully in
Alias Hook
. Also very refreshing is the male narrator, because there is only so much similarity in books that I can take.
While growing up you think that Peter Pan is what every adult hopes for, the chance to remain young eternally. The older you get, however, the more you realize that it is a blessing to grow up and gain a heart and responsibilities. I really enjoyed the way Jensen dealt with that development really well and allowed the reader to make up his own mind while also stating some much-needed truths. What allows the book to not become too moralistic or too heavy is its beautiful writing. Jensen switches between the Hook of now and flashbacks to his past, which allows the reader to get to now Hook bit by bit, keeping the tension while also allowing for quite some spectacle along the way. Lisa Jensen re-imagines almost every single aspect of Barrie's original Neverland. Whereas Barrie set out to create the perfect childhood play-land, Jensen creates a land filled with things that aren't what they appear to be. Her writing is very descriptive and often I almost felt as if I was watching a movie. Jensen tries to capture the language of the Restoration period and at times almost overdoes it, but it's beautiful.
I majorly enjoyed Stella Parrish. She is what I would call an independent, 20th century woman and therefore a pleasure to read. She brings her 1940s attitude to a Restoration man who is very much stuck in his own time. Her straight-forwardness was really fun, as was the way she was a pro-active part of the narrative despite the story being Hook's. Partly because of her, the book manages to maintain a very fun and humorous aspect. You can't help but speed through this book and yet not want it to end. Not only do you want to know what happens to Hook and Stella, but you are almost more desperate to find out the secret behind Neverland.
I give this novel...
4 Universes.
I really enjoyed
Alias Hook
and didn't really want it to end. The writing is beautiful as is the scenery. The characters are interesting and the narrative is quite complex. It is a read you won't want to finish and I can definitely recommend it to people of fairy-tale adaptations. You're bound to have a good time with this book and probably fall in love with Captain Hook!