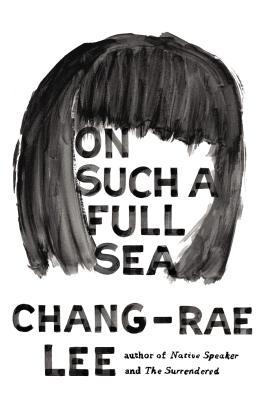 How is everyone on this splendid Tuesday? I have an early start and then work in the afternoon so I might not be able to drop by until late in the evening! Last week I used
Paradise Lost
for this meme post and although I
'm still working through it I am really enjoying it. This week I'm using another book my father gave me, after the very successful The Peculiar Life of a Lonely Postman. This book is: On Such A Full Sea by Chang-Rae Lee.
In a future, long-declining America, society is strictly stratified by class. Long-abandoned urban neighborhoods have been repurposed as highwalled, self-contained labor colonies. And the members of the labor class—descendants of those brought over en masse many years earlier from environmentally ruined provincial China—find purpose and identity in their work to provide pristine produce and fish to the small, elite, satellite charter villages that ring the labor settlement.
In this world lives Fan, a female fish-tank diver, who leaves her home in the B-Mor settlement (once known as Baltimore), when the man she loves mysteriously disappears. Fan's journey to find him takes her out of the safety of B-Mor, through the anarchic Open Counties, where crime is rampant with scant governmental oversight, and to a faraway charter village, in a quest that will soon become legend to those she left behind.
On Such a Full Sea takes Chang-Rae Lee's elegance of prose, his masterly storytelling, and his long-standing interests in identity, culture, work, and love, and lifts them to a new plane. Stepping from the realistic and historical territories of his previous work, Lee brings us into a world created from scratch. Against a vividly imagined future America, Lee tells a stunning, surprising, and riveting story that will change the way readers think about the world they live in.
Tuesday Intros
and
Teaser Tuesdays
are
hosted by Diane over at
Bibliophile by the Sea
and MizB over at
Should Be Reading
.
BB:
'It is known where we come from, but no one much cares about things like that anymore. We think, Why bother? Except for a lucky few, everyone is from someplace, but that someplace, it turns out, is gone. You can search it, you can find pix or vids that show what the place last looked like, in our case a gravel-colored town of stoop-shouldered buildings on a riverbank in China, shorn hills in the distance. Rooftops a mess of wires and junk. The river tea-still, a swath of black. Ans blunting it all is a haze that you can almost smell, a smell, you think, you don't want to breathe in.' p.1
I really like the tone of the beginning, which is important considering it's a dystopian novel. I feel like that genre has to do a lot of extra work in the first chapter or so in order to establish how this worldscape is dystopian.
Teaser:
'Look at this attractive but weary-faced wife, Glynnis, who could no longer afford to have her hair colored or her crow's feet smoothed, time catching up and passing her by right before your eyes.' p.143
I love this teaser even though it is perhaps harsh, but I think humanity's vanity could be the first thing used against it in a dystopian society. And I feel very sorry for Glynnis!
So, this is my Tuesday post! Does On Such a Full Sea sound like your kind of book? Leave a link to your post so I can drop by!