Friday Memes - 'Thoughtful' by S.C. Stephens
I've got two pieces of good news: one, I did pretty well last term at university. I wish I had put in a little bit more work while gallivanting around Israel because then I could easily have boosted them up to another level, but that's past so now I'm just going to work extra hard this term! Second, at some point today my Kindle Voyage will get delivered!! My old one is breaking down slowly but surely so I invested some bday money and soon I will be spamming you with pictures of my new baby!
Ok, I should really get on with the memes now!
Follow Friday
is hosted by
Alison Cand Read
and
Parajunkee
. This week's question was suggested by
Unconventional Book Views
:
Do you use the # FF on Twitter on Fridays? If you do, are you afraid you'll forget someone and they'll be sad?
I don't use the hashtag exactly for that reason! There are so many people I'd want to include and tweet that I'd just end up Tweeting all day and probably still forget someone! And although I don't know whether anyone would be sad over that, I definitely would be. It's something I love seeing though and I always get all warm and tingly on the inside when I get included.
Book Blogger Hop
is hosted by Billy over at
Ramblings of a Coffee Addicted Writer
. This week's question was suggested by Elizabeth over at
Silver's Reviews
:
Is there anything that makes you keep returning to certain blogs?
I really enjoy reading blogs, which is the main reason I hop around. What keeps me coming back is partially really enjoying someone's writing style or because I like the way in which they answer memes. If it is not a meme day I tend to drop by blogs where I know I'll find books I like as well. I won't always leave a comment but I do drop by a couple of blogs a day!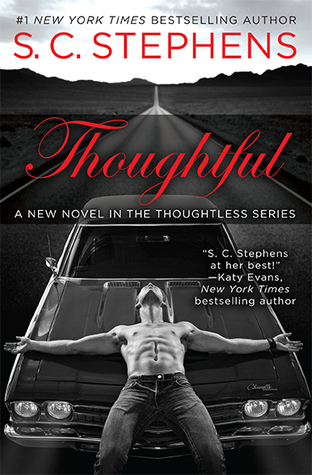 Book Beginnings
and
Friday 56
are hosted by Gilion over at
Rose City Reader
and Freda over at
Freda's Voice
, respectively. This week I am using a new book I got from Little, Brown last week which is up for review soon (many thanks to them and Sphere!):
Thoughtful
by S.C. Stephens.
Every story has two sides, and in this new book, the epic love story between Kiera and Kellan is shown through his eyes.
All Kellan Kyle needs is his guitar, and some clean sheets of paper. Growing up in a house that was far from a home, he learned a hard lesson:

You're worthless

. Now his life is comfortably filled with passionate music, loyal band mates, and fast women...until he meets

her.
Kiera makes him ache for more. Makes him feel for the first time that

he's

worth more. But there's one problem - she's his best friend's girl.
Just when Kellan thought his emotional defenses were rock solid, Kiera's indecisive heart wreaks havoc on his soul, changing him forever. Losing Kiera is not an option.
I am appreciating the abs on the cover. I am wondering whether I should have read the first one but I guess I'll find out!
BB
:
'I'd been playing the guitar since I was six. While I'd been with the D-Bags for a few years now, I'd been in one band or another since high school. My childhood hadn't been the easiest, and music had been my saving grace.' p.1
I like the beginning because music is important to me as well. However, a band called the D-Bags is a bit much, no? Bad boys and the things they get up too ;)
F56
:
'It gave me a huge smile to see Denny so happy. He looked satisfied, like everything in his life was just the way he wanted it.' p.56
Although I'm questioning whether the first sentence makes sense, I do think this teaser sounds adorable. People being happy is always a good thing!
Do you use the #FF on Twitter? And is there something that keeps drawing you back to blogs?