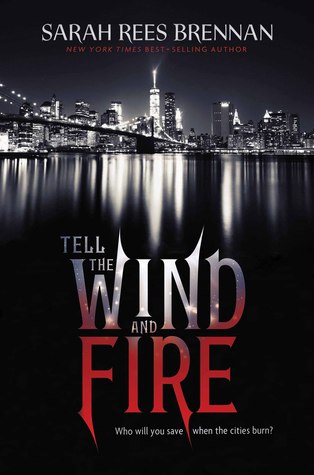 It's Tuesday and I've got a fun read to tease all of you with. Sarah Rees Brennan is the woman you can all credit with for turning me from someone who simply didn't "get" YA and refused to give it a chance, into someone who discovered the breadth of the genre and how free and amazing it could be. And since then I have been loyally picking up her books whenever I could find them! So here I am with her latest,
Tell the Wind and Fire
!
In a city divided between opulent luxury in the Light and fierce privations in the Dark, a determined young woman survives by guarding her secrets.
Lucie Manette was born in the Dark half of the city, but careful manipulations won her a home in the Light, celebrity status, and a rich, loving boyfriend. Now she just wants to keep her head down, but her boyfriend has a dark secret of his own—one involving an apparent stranger who is destitute and despised.
Lucie alone knows of the deadly connection the young men share, and even as the knowledge leads her to make a grave mistake, she can trust no one with the truth.
Blood and secrets alike spill out when revolution erupts. With both halves of the city burning, and mercy nowhere to be found, can Lucie save either boy—or herself?
Celebrated author Sarah Rees Brennan tells a magical tale of romance and revolution, love and loss.
Sound good no? Me and revolution go together like nothing else so I can't wait to start this one!
Tuesday Intros
and
Teaser Tuesdays
are hosted by Diane over at
Bibliophile by the Sea
and Jenn over at
Books and a Beat
respectively.
Tuesday Intros
:
'It was the best of times until it was the worst of times.We had never been allowed to go away for the weekend alone together before. So our holiday at Martha's Vineyard was a rare and special treat, sweet as only things that come seldom and do not last can be.' 1%
Aaah I see you and your Charles Dickens references! I thought the title sounded like I'd heard it in a beautiful quote before and I had! I like this beginning though, I feel like I can definitely empathise with the narrator from this! Since I'm not the biggest Dickens fan, maybe this can convince me to give
A Tale of Two Cities
a try.
Teaser Tuesdays
:
'Penelope's and Marie's faces turned to his, and Jarvis's expression smoothed. Marie scrambled off the sofa and ran to him, and he lifted her up to the ceiling, his Light-enhanced-for-perfect-vision eyes reflecting a golden rim. Marie laughed down at him, knowing for certain that her father would always protect her and always be there, his hold on her steady and strong.' 33%
I realize this is quite a long teaser but I simply loved the last line and didn't want to share it without the run-up! I'm definitely a bit of a daddy's girl so this was just really recognizable for me.
Have you read
Tell the Wind and Fire
? It just came out last week so I'm still trying to avoid reviews etc. before I finish it.