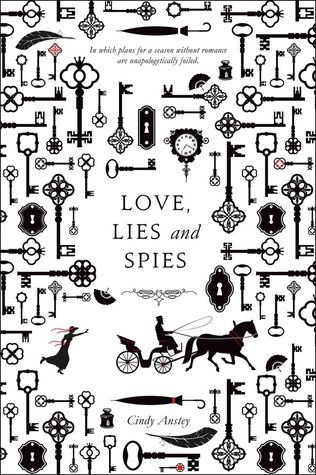 Today I'm sharing a book which is coming out today:
Love, Lies and Spies
by Cindy Anstey. The cover was what first drew me to it because it looked so intriguing and clever. And the blurb just intrigued me straight away as well. The fact that the main character has almost the same name as me definitely helps as well!
Juliana Telford is not your average nineteenth-century young lady. She's much more interested in researching ladybugs than marriage, fashionable dresses, or dances. So when her father sends her to London for a season, she's determined not to form any attachments. Instead, she plans to secretly publish their research.
Spencer Northam is not the average young gentleman of leisure he appears. He is actually a spy for the War Office, and is more focused on acing his first mission than meeting eligible ladies. Fortunately, Juliana feels the same, and they agree to pretend to fall for each other. Spencer can finally focus, until he is tasked with observing Juliana's traveling companions . . . and Juliana herself.
Tuesday Intros
and
Teaser Tuesday
are hosted by Diane over at
Bibliophile by the Sea
and Jenn over at
Books and a Beat
.
Intro
:
'"Oh my, this is embarrassing," Miss Juliana Telford said aloud. There was no reason to keep her thoughts to herself, as she as alone, completely alone. In fact, that was half of the problem. The other half was, of course, that she was hanging off the side of a cliff with the inability to climb either up or down and in dire need of rescue.' p.1%
I loved the sound of this from the beginning! I mean, if I was hanging off a cliff I probably would be screaming rather than commenting on how embarrassing the situation was. Although, admittedly, I have been in England for quite a while so potentially by now I am so British and apologetic that I would.
Teaser
:
'Spencer's brows furrowed, and his gaze went from her hand to her mouth. The singular way in which he was staring made Juliana feel rather heady, as if she were about to float away.' 44%
There's nothing quite like a man looking intently at your lips to make you feel like you could float away. Also, the fact my name is Juliane makes me feel like I will be loving Juliana quite a lot. Our names are too similar for me not to.
So, does
Love, Lies and Spies
sound like your kind of book Drop by
my review
if you're not quite sure yet!