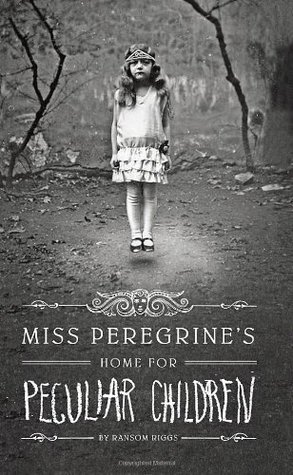 As usual I am a little bit late to catch up with the world, despite meaning to do so years ago.
Miss Peregrine
first came out in 2011 and Riggs' novel pretty much became a hit straightaway. A fabulous mix between fantasy and mystery, combining prose with photographs, it was something else. So since 2011 I have been meaning to read Riggs' trilogy and here is me, finally following up on my intention. Thanks to Quirk Books for providing me with the brilliant film tie-in cover edition (see below), in exchange for an honest review.
Publisher
: Quirk Books
A mysterious island. An abandoned orphanage. A strange collection of curious photographs.
A horrific family tragedy sets sixteen-year-old Jacob journeying to a remote island off the coast of Wales, where he discovers the crumbling ruins of Miss Peregrine's Home for Peculiar Children. As Jacob explores its abandoned bedrooms and hallways, it becomes clear that the children were more than just peculiar. They may have been dangerous. They may have been quarantined on a deserted island for good reason. And somehow—impossible though it seems—they may still be alive.
A spine-tingling fantasy illustrated with haunting vintage photography,

Miss Peregrine's Home for Peculiar Children

will delight adults, teens, and anyone who relishes an adventure in the shadows.
Who isn't fascinated by that which is different and that which is other? Riggs'
Miss Peregrine
features a whole cast of outcasts, a set of characters who are in some way different and peculiar. They feel taken straight out of fairy tales and myths and storytelling also plays a major part in setting Jacob up on his journey.
Miss Peregrine
also feels like such a mythical story, a legend which both explains and yet doesn't, which reveals just enough of a fascinating world peopled with fascinating characters to leave the reader desperate for more.
Miss Peregrine
is immensely helped by its sympathetic main character. It is not often that a teenage boy is written to be so interesting and insightful, shown to be capable of feeling and emoting, taking responsibility for his actions and showing an awareness for others. The fact Jacob struck me as much as he did feels like proof that these kinds of male characters are rarer than they should be. As a Medievalist who specialises in Old English and Old Norse I was also absolutely loving the names for some of the novel's peculiarities such as
ymbryne
and
Syndrigast
, all of which can be translated and interpreted in different ways. It's a sign of the attention and care Riggs has dedicated to creating his world and it majorly pays off.
Miss Peregrine
combines fantasy and mystery, different time zones and science fiction-elements. And all of this in a novel that is technically Young Adult. Riggs brings all of these different elements together very well, making them work with and for each other to give the reader a very interesting reading experience. While Jacob is your average, everyday American teenage boy, the situations he finds himself in are anything but average and ordinary. This combination of genres with this plot might not have worked for any other author, but in Riggs' hands
Miss Peregrine
becomes an immensely fun and interesting book. A personal highlight for me was the Historical Fiction side of the novel, which engages with some of the characters' history as well as the general contemporary history of Europe at the time. The Second World War left an indelible mark on Europe and I thought it was very gratifying to see how Riggs dealt with the aftermath of it for some of its characters. WWII doesn't often appear in the background of novels but when handled in the way
Miss Peregrine
does it can add immensely to the novel.
Riggs used to be a writer for film and TV and it definitely shows throughout
Miss Peregrine.
The novel is incredibly cinematic, Riggs going the extra mile both with his descriptions as well as by including the photographs which served as inspiration along the way. As he describes himself in the interview accompanying the film tie-in edition, there are moments in the book which feel like close-ups which allow for intimacy, while other moments are wide-angle shots, giving the reader a sense of grandeur and scale. Knowing this novel will appear as a film soon I'm incredibly excited for certain moments and certain sets, which I know will be stunning. The lay-out of the book is another major bonus. Not enough books try to engage the reader through how they're presented, but
Miss Peregrine
is also a visual reading experience. Not only is the typeface beautiful, but so are the illustrations and chapter designs. In combination with the authentic (!) photographs, it makes for an interactive and pleasurable read.
I give this novel...
4 Universes!
Miss Peregrine's Home for Peculiar Children
is an absolutely fascinating read and one of the best fantasy books to have come out in recent years. I can't believe I've waited this long to get my hands, and eyes, on it, and I'll be reading the rest of the trilogy,
Hollow City
and
Library of Souls
, as soon as possible. I'd recommend this to fans of Fantasy, Science Fiction and Mystery. It's a brilliant novel and you should definitely give it a try before the film comes out on the 30th of September!