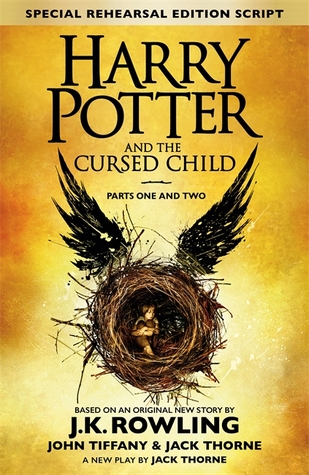 Let me start this review with the fact that I am a massive
Harry Potter
fan and that there aren't going to be many things J.K. Rowling could do that I wouldn't enjoy at least a little bit. There was such an elation in relation with reading
The Cursed Child
that this review and my thoughts of it are bound to be at least slightly rose-coloured. So this is not the most coherent of reviews because I'm feeling incredibly conscious about not spoiling anything for the next few weeks. So check back soon and I will probably have some big spoiler-filled discussion post up.
Pub. Date
: 30/07/2016
Publisher
: Little, Brown Book Group
The Eighth Story. Nineteen Years Later.
Based on an original new story by J.K. Rowling, Jack Thorne and John Tiffany, a new play by Jack Thorne,

Harry Potter and the Cursed Child

is the eighth story in the Harry Potter series and the first official Harry Potter story to be presented on stage. The play will receive its world premiere in London's West End on July 30, 2016.
It was always difficult being Harry Potter and it isn't much easier now that he is an overworked employee of the Ministry of Magic, a husband and father of three school-age children.
While Harry grapples with a past that refuses to stay where it belongs, his youngest son Albus must struggle with the weight of a family legacy he never wanted. As past and present fuse ominously, both father and son learn the uncomfortable truth: sometimes, darkness comes from unexpected places.
Aah, it's been a long, long time! Something felt intrinsically right about reading a new
Harry Potter
book, even if it is not technically a novel but a "Special Rehearsal Edition Script". It would be impossible to write this review with some nostalgia so let's get into it immediately. A whole generation has grown up with
Harry Potter
, has loved it as their light in the dark and still bonds over it. Going back to it now as an adult is both an interesting and a strange experience. Here we are, reading about Harry, Hermione and Ron again but it is not really them. We're reading a
Harry Potter
book but it's not really a book and it's not written by J.K. Rowling either. It may cause some confused feelings for some fans, but for me the nostalgia was still there. This is a new story, new kids on the Hogwarts Express and in all honesty that is what I as a fan like to see. I absolutely adore some of the new characters and I'm definitely intrigued by some of the others. A fandom shouldn't become stagnant, a canon of texts should be able to develop and grow as well. But there has been both a lot of speculation and even anger about some of the ways in which the plot unravels.
I think J.K. Rowling and her co-writers were quite brave to make certain choices. In order to not discus spoilers I will simply talk about another franchise which I believe has made similar brave choices. I'm talking about
Star Wars
and the Prequels. Depending on which fan you talk to this might fill you with fear, but I personally love the Prequels. In the
Star Wars
prequels George Lucas made the choice to revisit one of his most iconic characters and show his audience another side of him. Darth Vader, that dark and terrible yet inspiring villain, was now a young boy, hopeful and kind. It threw some people because they preferred seeing their characters only in one light, unwilling to accept that good characters can turn bad and that bad characters can have good sides. People change over time and making mistakes is a part of that. No, how does this apply to
Harry Potter and the Cursed Child
? Rowling also makes a time jump and shows us some of her most beloved characters from a new angle. They live a different life, they make different choices and fans will have to accept that. For me personally it was fine, with some of the things others are thinking of as "unforgiveable" being simply interesting or sloppy to me.
What both works for
The Cursed Child
and doesn't is that it is a screenplay. We are used to J.K. Rowling's amazing descriptions and characterisations, which very much is the meat that makes
Harry Potter
so delicious. That is completely missing in the play, since most screenplays simply do not have descriptions but only stage notes. It means that the plot moves along incredibly fast, the twists and turns perhaps coming a little bit too rapidly and some characters not getting enough time. If this screenplay was meant to make me curious about seeing the play it definitely succeeded. This play is a revisit, and if J.K. Rowling is to be understood, the final revisit. Part of the purpose of this play is fan-service, it simply is. All the known locations are visited, most of the favourite characters appear (there are some glaring gaps though) and, as such, we learn nothing fundamentally knew about the Wizarding World. If you're looking for something new then
Magical Beasts and Where to Find Them
will be the thing for you, truly departing from what we know. To me reading
The Cursed Child
simply felt like a return to my childhood for a few hours, something slightly new and yet recognizably familiar.
I give this screenplay...
4 Universes!
Harry Potter and the Cursed Child
is for the
Harry Potter
fans who just want to go back one last time. It will be something of a disappointment to them though because they have changed and their favourite characters have changed. There will probably be a lot of debate about
The Cursed Child
for a while, but the new characters that have been introduced are worth it, I think.