This review is a bit late, yes, but here it is nonetheless. Agatha Christie is one of my favourite authors and she has an incredibly legacy. I'm pretty sure there isn't a single day where British TV isn't showing at least one adaptation of her books. With
And Then There Were None
, however, the BBC has really outdone itself.
Author
: Agatha Christie
Director
: Craig Viveiros
Script writer
: Sarah Phelps
First, there were ten - a curious assortment of strangers summoned as weekend guests to a private island off the coast of Devon. Their host, an eccentric millionaire unknown to all of them, is nowhere to be found. All that the guests have in common is a wicked past they're unwilling to reveal - and a secret that will seal their fate. For each has been marked for murder. One by one they fall prey. Before the weekend is out, there will be none. And only the dead are above suspicion.
And Then There Were None
is Agatha Christie's most popular novel. Whereas some of her stories may not have aged as gracefully, the suspense of
ATTWN
makes it timeless. Sarah Phelps, who did a brilliant job on the script, perfectly described one of the reasons why this story is still relevant:
"Within the Marple and Poirot stories somebody is there to unravel the mystery, and that gives you a sense of safety and security, of predicting what is going to happen next... In this book that doesn't happen – no one is going to come to save you, absolutely nobody is coming to help or rescue or interpret" - BBC
ATTWN
plunks you and the characters in the middle of a horrid situation from which no one can save you. It speaks to the feeling of unease and lack of safety that is currently rearing its head in society. A key strength of the story itself is that, written shortly before the start of WWII, it has a palpable air of distrust. No one is who they seem, everyone has something to hide and no one can be trusted. Not only was that incredibly time appropriate in the mid 20th century, it is once again appropriate for the state of the world now. There is a sense now that the whole word is on the edge of something and that your neighbour might not be who he presents himself to be. The coldness of Christie's original story and the equal chill that Phelps' script encourages really seeps through and, without sounding dramatic, brings home what humans really are capable of. Everyone has a skeleton in their closet and everyone is capable of murder. This is not your comfortable afternoon-type of murder, this is Agatha Christie meets
Battle Royale
.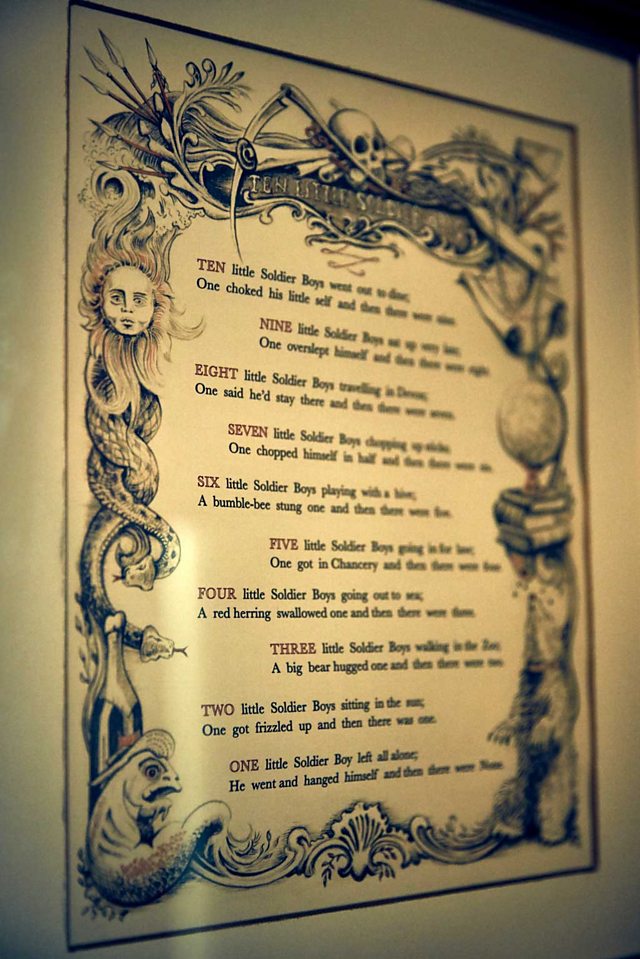 The performances of each of the actors is superb. Each character is given their moment to shine and the actors work of each other perfectly. Something magical happens when you get the right cast together and that is definitely the case for
ATTWN
. Whether it is the almost Gothic look and performance of Mr. and Mrs. Rogers (Noah Tylor & Anna Maxwell Martin) or the neurotic Doctor Armstrong (a brilliant turn by Toby Stephens), there is not a single character that doesn't intrigue. Maeve Dermondy's Vera Claythome was impossible not to be fascinated by and in some ways she is the audience's reference character. We stick by her for as long as we can. The actors throw their whole selves into it and as a consequence the audience is so trapped on Soldier Island by suspicion and suspense that the three hour-long episodes fly by.
It should come as no surprise to anyone that the BBC excels at making beautiful television, but the reason their cinematography is so effective lies in the understanding of the importance of setting. It's something British and European directors always seem to be very aware of, how much the setting plays a role in a story, not just to set the mood but as a character of its own. That's incredibly true, of course, for a story like
ATTWN
where the house and its nooks and crags are so crucial to the continuation of the plot. Expertly filmed and written by Viveiros and Phelps, Soldier Island and the house have an incredible presence from the very beginning of the first episode.
What
ATTWN
finally leaves you with is the question of who can judge. Is anyone so free of sin that they can cast the first stone? Not exactly the cheeriest of Christmas or New Year's messages, but an important one nonetheless.