Miserable Intros and Teaser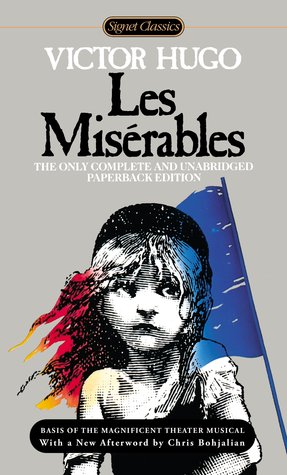 Have you ever done your best to not read a book? Disliked the movie adaptations of it and been vocal about that? Well, I have a number of books like that which I am determined not to read because what I know of them makes me slightly miserable. One of these books was Victor Hugo's famous
Les Misérables
. Everything I'd heard of it suggested that it was indeed rather miserable and I found the recent movie adaptation to be rather over-the-top. I only really care for the barricade and for Javert and until this weekend that didn't seem enough to pull me in. But Channel 4 seemed to have other things in mind for me when it showed
Les Misérables
on Sunday. By the end of the night I was thinking about how much more there has to be to the story than the film and musical show. So I decided it was time for me to get over myself and actually dig into this book. Long story short, I am using Victor Hugo's
Les Misérables
today in the hope to get myself more geared up to actually start it.
Introducing one of the most famous characters in literature, Jean Valjean - the noble peasant imprisoned for stealing a loaf of bread. In Les Misérables Victor Hugo takes readers deep into the Parisian underworld, immerses them in a battle between good and evil, and carries them onto the barricades during the uprising of 1832.
Within his dramatic story are themes that capture the intellect and the emotions: crime and punishment, the relentless persecution of Valjean by Inspector Javert, the desperation of the prostitute Fantine, the amorality of the rogue Thénardier and the universal desire to escape the prisons of our own minds. Les Misérables gave Victor Hugo a canvas upon which he portrayed his criticism of the French political and judicial systems, but the portrait which resulted is larger than life, epic in scope - an extravagant spectacle that dazzles the senses even as it touches the heart.
Tuesday Intros
is hosted by Diane over at
Bibliophile by the Sea
and
Teaser Tuesdays
is hosted over at
A Daily Rhythm
.
Intros
:
'In 1815, M. Charles-Francois-Bienvenu Myriel was Bishop of D—— He was an old man of about seventy-five years of age; he had occupied the see of D—— since 1806.Although this detail has no connection whatever with the real substance of what we are about to relate, it will not be superfluous, if merely for the sake of exactness in all points, to mention here the various rumors and remarks which had been in circulation about him from the very moment when he arrived in the diocese. True or false, that which is said of men often occupies as important a place in their lives, and above all in their destinies, as that which they do.' p.1
Although the first paragraph is rather official sounding, I do like the tone of the second paragraph. It's always interesting when the author involves himself with the story so directly and tries to direct the reader towards what is most important. And that last line is simply true! We all care for what others say about us, to the extent we're willing to change what we do.
Teasers
:
'The mouse which had been caught was a pitiful specimen; but the cat rejoices even over a lean mouse.' p.264
That sounds like it could come from a proverb! Hint, this is about the Thenardiers. I just thought it was a fun line and if there are more of these in the book I may actually enjoy it!
'Magnon was a sort of fashionable woman in the sphere of crime.' p.1594
As I skipped ahead in search of a good teaser I saw this one and how could I not share it. I wish someone would say this about me.
Have you read
Les Misérables
? And if you did, did you like it?