Friday Memes and a Haunting
It's Friday and it's almost the end of August. Why does time seem to go so fast? There is seriously no need for September to already be happening! Before I start procrastinating about the idea of time, let's get our meme on!
Feature and Follow Friday
is hosted by
Alison Can Read
and
Parajunkee
and this week's question was suggested by
Journey Through Fiction
:
Share a random quote from the book you are currently reading!
I'm reading
Italo Calvino's Invisible Cities
on the down-low next to everything else so I thought it might be fun to share a quote from his book.
'If you choose to believe me, good. Now I will tell how Ovctavia, the spider-web city, is made. There is a precipice between two steep mountains: the city is over the void, bound to the two crests with ropes and chains and catwalks. You walk on the little wooden ties, careful not to set your foot in the open spaces, or you cling to the hempen strands. Below there is nothing for hundreds and hundreds of feet: a few clouds glide past; farther down you can glimpse the chasm's bed.' p.67
I love the description of the city suspended above a void.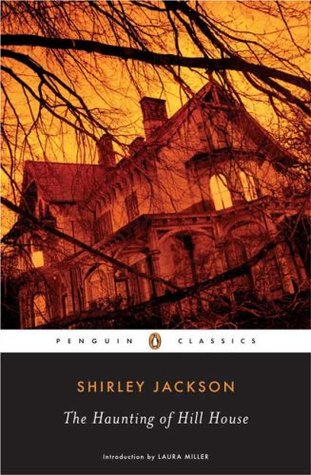 Book Beginnings
and
Friday 56
are hosted by Gilion over at
Rose City Reader
and Freda over at
Freda's Voice
respectively. This week I'm using
The Haunting of Hill House by Shirley Jackson
, which I saw recently. I love Shirley Jackson so I thought it might be fun to share!
The classic supernatural thriller by an author who helped define the genre
First published in 1959, Shirley Jackson's

The Haunting of Hill House

has been hailed as a perfect work of unnerving terror. It is the story of four seekers who arrive at a notoriously unfriendly pile called Hill House: Dr. Montague, an occult scholar looking for solid evidence of a "haunting"; Theodora, his lighthearted assistant; Eleanor, a friendless, fragile young woman well acquainted with poltergeists; and Luke, the future heir of Hill House. At first, their stay seems destined to be merely a spooky encounter with inexplicable phenomena. But Hill House is gathering its powers—and soon it will choose one of them to make its own.
BB
:
'No live organism can continue for long to exist sanely under conditions of absolute reality; even larks and katydids are supposed, by some, to dream. Hill House, not sane, stood by itself against its hills, holding darkness within; it had stood so for eighty years and might stand for eighty more. Within, walls continued upright, bricks met neatly, floors were firm, and doors were sensibly shut; silence lay steadily against the wood and stone of Hill House, and whatever walked there, walked alone.' p.1
Well, that is one hell of a beginning! Not only is the first opening line very suggestive of something going very wrong, the hint in 'whatever walked there' makes me think that there is something that will go very wrong.
F56
:
'She shivered and sat up in bed to reach for the quilt at the foot. Then, half amused and half cold, she slipped out of bed and went, barefoot and silent, across the room to turn the key in the lock of the door; they won't know I locked it, she thought, and went hastily back to bed.' p.56
I wonder why she's amused! She is in a cold house, where she has to lock the door so 'they' can't get in! Who are they? It looks like within 56 pages quite a lot will happen.
So, that's me done for Friday! Does
The Haunting of Hill House
sound like your kind of book?