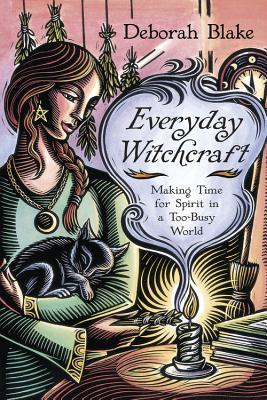 I'm not quite sure what I was expecting from this book, yet my slight disappointment with
Everyday Witchcraft
must stem from my incomplete knowledge of Wicca. However, there were some parts of the book which I did enjoy.
Everyday Witchcraft

is a book for today's Witch—busy and overwhelmed, but still longing to find a way to make a spiritual connection and integrate her Pagan beliefs with her everyday life. Simple, fun, and easy to follow, this book is both practical and empowering. Includes "5 Minute Rituals" along with suggestions for easy daily or monthly practice. Bring magick into your everyday life!
Wicca is a religion which was developed in the mid 20th century and has gained both popularity and notoriety. Partially the latter depends on the fact that I think many people don't know what the religion really means and wants. To a certain extent this is due to the fact that the religion has no central head or "rule book" but there is also simply a misunderstanding about what 'magic' really means. I myself am, unfortunately, someone who falls into the latter category. When thinking of witchcraft I think of something either like Harry Potter or Charmed, which shows to what extent I have been conditioned by popular culture. Although personally Wicca isn't the religion or magic for me, I found my dip into the religion very interesting.
Everyday Witchcraft
has proven to me once and for all that Wiccan is much more natural than I expected. By that I mean that those who follow Wiccan are very in touch with nature and, or so it seems to me, focused on creating balance within yourself and your life. The practical advice was really interesting and some of it is advice I wouldn't mind trying out myself. As such,
Everyday Witchcraft
reads like a manual for a spiritual guidance. As 'non-believer' myself (I'd love nothing more than for magic to be real) I read this book from an outsider perspective, yet I could see the value it can hold for those practicing Wicca. It offers some great advice on how to introduce Wiccan magic and rituals into your life and I also thought the section on how to deal with prejudice and mistrust was really interesting.
What I did enjoy about
Everyday Witchcraft
was that Deborah Blake was very down to earth about her religion and her knowledge. This is something you don't find in a lot of other religions and it's refreshing. It was also great to see Blake add an essay by other Wiccans at the end of each chapter. Getting other people's perspective is always interesting and it also showed the wide variety of topics that Wicca picks up on. Blake's own writing style is accessible and open, and I can see how this book would be valuable to those practicing Wiccan.
I give this book...
3 Universes.
Everyday Witchcraft
wasn't what I was expecting, partly because I was unaware of the fact it ws purely Wiccan. However, it is an easy and practical read, which I am sure has real use for practitioners. As an outsider I enjoyed reading it and getting a glimpse into the religion. Blake has an open writing style which makes this book a fun read!