Spotlight: 'Safe & Sound' by T.S. Krupa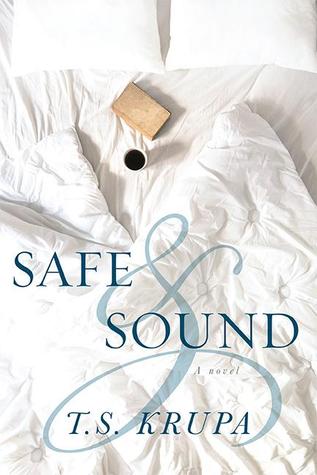 I'm very pleased t
o host another Spotlight-post. This time it's for the lovely T.S. Krupa, who I met during Armchair BEA this year, and her novel Safe & Sound.
When Jill met Jay Greenfield she knew she had found her forever love. She was a kindergarten teacher, he was a high-powered attorney and their lives were perfect. But when a tragic accident takes Jay's life, this young bride is left to pick up the pieces.
Jill finds herself a young widow facing multiple decisions she thought she had a lifetime to decide. With support from her childhood best friends, Lanie and Stella, Jill attempts to piece her life back together. With nightmares plaguing her dreams and the struggles of constant grief over Jay's passing, Stella and Lanie keep near constant vigilance over her.
In the process of settling the estate, Jill learns that her husband was not quite the man she thought he was. She finds herself transported to the small beach town of Oak Island, North Carolina. But the fairy tale ending she envisioned no longer exists. She must face the reality that Jay is gone as she finds herself having a chance at love one more time.
Safe and Sound follows a yearlong journey of love, loss, friendship, and conquering the unexpected.
About the Author:
T.S. Krupa was born in New Haven, Connecticut. Krupa and her younger sister were raised in a Polish
household with a
blended American culture by her parents Stan and Krys; she is fluent in Polish and
frequently travels to visit family abroad.
Growing up in Clinton, Connecticut Krupa attended The Morgan High School. She started playing field hockey in the seventh grade after being cut from the soccer team. She was accepted to Franklin Pierce University (College then), where she continued playing field hockey for four years. She made it almost all ten years of her field hockey career without any injuries only to break her nose playing during her senior year. After college, Krupa traveled cross-country for a job at Texas Tech University. While there, she earned her Master's and became a Red Raider (Guns Up!) and college football fan. It was there that she started coaching club lacrosse and found an instant connection with coaching.
The next chapter in her life took Krupa from Texas to be with her then fiancé in Winston-Salem, North Carolina. She continued coaching club lacrosse and then began coaching club field hockey. She is now in her seventh year of coaching club field hockey. In 2009, she finally started work on her childhood goal and
began work on her Doctorate of Education from North Carolina State University. Her dissertation topic focuses on ethical decision-making. Krupa graduated with her PhD in May 2014.
Krupa now lives in North Carolina with her husband and dog, Chase. Chase came into her and her husband's life after a neighbor found him at a gas station. Krupa's husband brought him home and told her that he had a surprise and if she wanted to keep it she needed to buy dog food. It was love at first sight and Chase is now spoiled rotten.
Along the way T.S. Krupa has always written in journals and enjoyed writing. It was only recently when the stories could no longer just run through her daydreams that she felt the need to put them down on paper.
Safe & Sound
is her first novel.
Links
:
Twitter
,
Goodreads
,
Amazon
,
Website
Preview of Chapter 1:
"I could hear him rustling in the bedroom. A hint of sunlight was streaming through the windows. The air was still damp and cool, telling me it was early, too early for a Sunday. I slowly stirred in bed, stretching my legs, trying to ease from my body the soreness of yesterday's long run. 'No. You sleep,' he whispered as he leaned down, moving my long chestnut-colored hair out of the way and kissing my forehead. 'I'm just going to run the short course today and I'll be back soon.''Sounds good. Love you,' I mumbled, rolling over in bed.'Love you too,' he said as he closed the door to the bedroom.I could hear my phone ringing in the distance as I tried to bring myself out of a deep sleep. I wondered what time it was. The bedroom was now bright as the sun shone directly in through the windows, but I could feel the chill in the air. I squinted at the clock that sat on the nightstand. It was already past 10 in the morning. I must not have heard Jay come back from his run. Maybe he was letting me sleep in.
I sighed and pushed myself up and out of bed. I found an old pair of sweatpants on the floor and pulled them up on my slender frame. Then I pulled a tank top out of the dresser and grabbed my robe from the end of the bed, wrapping it tightly around me. I made my way downstairs and as I entered the kitchen, I heard the loud chime from my iPhone, indicating someone had left a message.'Jay?' I called out throughout the house. No answer. The smell of freshly brewed coffee hit me as I walked into the kitchen. I drew a deep breath in and instantly made my way over to the coffee pot. I drew my favorite oversized green mug out of the cupboard and poured myself a cup. I then fished through the drawer for a spoon and came up empty. I pulled the dishwasher open and grabbed a spoon and examined it closely, determining that it was clean enough for me. After I added two large spoonfuls of sugar to my morning coffee, it was finally ready for consumption. I took a sip and leaned against the counter, examining the kitchen and looking for Jay's running shoes.Just then, my phone started to ring again. Sighing, I leaned over and grabbed it off the counter. An unknown number registered across the screen. I instantly hit Ignore and made my way to the living room, sinking into our oversized sofa with my coffee in one hand and my phone in the other. Turning the TV on, I found it was already on ESPN. Jay must have turned it on earlier to catch the baseball scores from the night before. Letting ESPN continue, I leaned back on the sofa, taking a big sip from my coffee and felt content in the moment. My phone chimed again as another voicemail recorded. Taking another long sip of my coffee, I wondered who was so persistent this morning. I made a mental list of who could possibly be calling. None of them really made any sense, so I quickly gave up. I shrugged my shoulders at my mystery caller and reached over and picked my phone back up. Only then did I notice that there were four missed calls and two voice messages. A knot started to form in my stomach as I punched the voicemail button to listen to the messages.'This is Officer Patrick Thomas with the Greensboro Police Department. I'm looking for Jill Greenfield. Please call me at the following number as soon as possible.'Stunned, I felt cemented to my place on the sofa, coffee in one trembling hand and phone in the other.The next message started to play."