Got my results back from Uni and I did well. My results aren't quite as amazing as I'd have wished, but they're good. I was incredibly scared because I want to apply to Master programs this autumn so I really wanted to do well. But now that I have my results the second year is really over, which is just so strange. Only one more year to go! Anyways, today is also a Friday and here are the memes!
Book Blogger Hop
is hosted by Billy over at Ramblings of a Coffee Addicted Writer and this week's question came from Becca over at
BS Book Reviewers.
Do you prefer Nook, Kindle, other reader, or paper books?
It really all depends on the situation for me. I used to fly to the Netherlands every second weekend to visit my Mum, which meant that for a while my Kindle was the best option to read anything on because I could always have it with me. Its portability is still one of the reasons why I absolutely love my Kindle. However, at University I find I'd much rather have a paperback version of the books we're reading. It's nigh impossible to "flip" to a specific page on a Kindle and it's harder to make notes as well, if you're open to writing in books.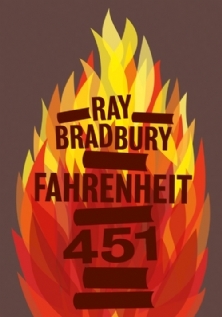 Something I really love about reading more on my Kindle is that it is still something special to go into a bookstore or buy a paperback or hardback. As a child I loved getting physical books and I am really happy the excitement over books still hasn't gone away.
Book Beginnings and Friday 56 are hosted by Rose City Reader and Freda's Voice. This week I'm using my next Classics Club read which I'm hoping to start after I finish H.G. Wells' The Time Machine, and that book is Fahrenheit 451 by Ray Bradbury. Talk about a classic, right?
The terrifyingly prophetic novel of a post-literate future.
Guy Montag is a fireman. His job is to burn books, which are forbidden, being the source of all discord and unhappiness. Even so, Montag is unhappy; there is discord in his marriage. Are books hidden in his house? The Mechanical Hound of the Fire Department, armed with a lethal hypodermic, escorted by helicopters, is ready to track down those dissidents who defy society to preserve and read books.
The classic dystopian novel of a post-literate future, Fahrenheit 451 stands alongside Orwell's 1984 and Huxley's Brave New World as a prophetic account of Western civilization's enslavement by the media, drugs and conformity.
Bradbury's powerful and poetic prose combines with uncanny insight into the potential of technology to create a novel which, decades on from first publication, still has the power to dazzle and shock.
'It was a pleasure to burn.
It was a special pleasure to see things eaten, to see things blackened and changed.' p.1
Can it get any more iconic? Also, (seriously) damaging books is a big no for me. I do break the spines of and write in paperbacks that I use for University, but I'd never rip out pages, burn a book or anything!
F56:
'Something inside had jerked him to a halt and flopped him down. He lay where he had fallen and sobbed, his legs folded, his face pressed blindly to the gravel.Beatty wanted to die.' p.56
I think Beatty is the main character, I like keeping myself ignorant of plots etc. until I read the book, and I really like the description here. Sometimes it does feel as if something inside you jerks you to a halt or ahead and I guess it can also floor you!
So, what do you prefer, reading-wise? And question of my own: do you prefer paperback over hardback?