It's Tuesday and I'm getting my university results today. To say I'm terrified would be a gross understatement so I need a distraction. And what is a better distraction than getting to read teasers? Every time I do this meme I'm surprised by how intriguing every single book is!
Teaser Tuesday
is hosted by MizB over at
Should Be Reading
.
The rules are easy:
Grab your current read
Open to a random page
Share two "teaser" sentences from somewhere on that page
Be careful not to include SPOILERS
Share the title & author, so other TT participants can add the book to their TBR lists if they want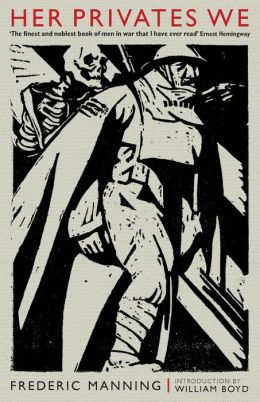 So, this week I'm using
Her Privates We
by Frederic Manning which I'm reading for my "series" on
First World War Literature
. I haven't gotten very far in it yet but I have until Friday so I am very positive about my chances of finishing it, especially since I've got a 2 hour train journey on Thursday! So, onto the teaser!
'That is a rather special case, but I have seen a man risking himself for another more than once: I don't say that they would all do it. It seems to be a spontaneous and irreflective action, like the kind of start forward you make instincitvely when you see a child playing in a street turn and run suddenly almost under a car.' p. 80
So far all the First World War literature I have read has emphasized both the incredibly humanity of the soldiers and their descent into complete banality, so I really liked this metaphor of something completely common describing something so completely uncommon to most people.
So, what are you teasing with?