I thought I'd try something new and that is not only keep up with news about literature, poetry and drama but actually share my favourite news with you as well. Whether favourite will always mean happy and positive news remains to be seen, but for now, let's get the news on the road.
The first
news story
I want to share with you relates to one of my favourite Classical texts:
The Odyssey
. After fighting in the Trojan War for 10 long years, Odysseus manages to make an enemy of the god Poseidon, delaying his return home for another 10 years. As he travels across the sea and loses his companions he encounters a menagerie of supernatural beings, whether it's the Siren, Circe and a cyclops, before finally being able to return home. The poem is believed to have been composed during the 8th century BC and to have been transmitted orally. The earliest known fragments of
The Odyssey
, until today, stemmed from the Christian era and were found in Egypt , where they were transcribed onto parchment.
Yesterday, in a
press release,
the Greek Culture Ministery revealed '
a particularly important discovery!
For the last three years Greek and German archaeologists have been tirelessly working on the Olympia site, but I doubt any of them were expecting to find the oldest fragment of
The Odyssey
ever uncovered and the first to be found in Greece itself. The clay slab discovered in Olympia contains 13 verses from the 14th book of
The Odyssey
. This book finally sees Odysseus returning to Ithaca and conversing with his friend Eumaeus, before reuniting with his wife Penelope and son Telemachus.
"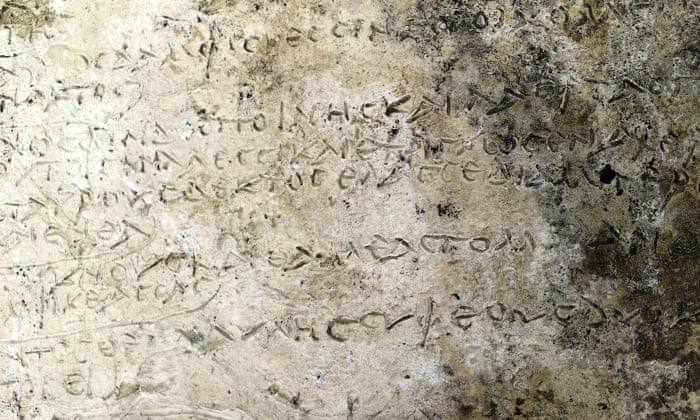 The dating of the slabs is still underway, but it was found amid Roman remains and is, for now, assumed to be from roughly 300 AD. I personally think this discovery will also be of major cultural importance to Greece. Many of the most stunning architecture and sculptures are to be found in museums outside of Greece and this has, rightly, been a sore point for a long time. To find a fragment such as this, of a text so integral to the literary and cultural importance of Greece to the rest of the world, and not have it whisked away, will be very meaningful.
From a literary standpoint this is indeed a singular and important discovery as well. I have always been fascinated by the oral transmission of such classic works, how stories changed with every time they were told, slightly altered by each person who told it. It is still debated whether Homer was a single person or if he is himself as much of a myth of Ulysses is. Are the tales he told all fiction or is there a kernel of truth to them? Although the answer to that question may never be found, I am hoping we'll continue to find little pieces of literary history such as the above clay slab, allowing us to trace how out stories have moved through time.
Are you a fan of the
Odyssey
?