"Found" a new meme and thought, why not, it's Friday after all!
Grab a book, any book
Turn to page 56
Find any sentence that grabs you and post it
Add your URL to the Linky on Freda's Voice
So, I grabbed the book I have been reading lately: 'The Winged Destiny: Studies in the Spiritual History of the Gael' by Fiona Macleod / Wiliam Sharp.
'A great stillness of blue prevailed on the morrow.'
2nd meme: Book Beginnings by
A Few More Pages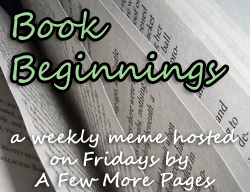 How to participate:
Share the first line (or two) of the book you are currently reading on your blog or in the comments. Include the title and the author so we know what you're reading. Then, if you would like, let us know what your first impressions were based on that first line, and let us know if you liked or did not like the sentence. The link-up will be at
A Few More Pages
every Friday and will be open for the entire week.
I grabbed the closest book to me, which turned out to be 'Written in the Ashes' by K. Hollan van Zandt, which was sent to me 2 weeks ago for review. First sentence from the Prologue:
'All trees hold secrets.'
Because it is such a short quote I thought I would share my favourite line from the prologue:
'Trees are the first libraries, the oldest houses of wisdom and knowledge.'
So, how about you? Share your favourite lines in the comments or link to our blog!!!