And it is a Friday again.
FF is hosted by Parajunkee and Alison Can Read.
Question: In light of 11.11.11 and Veteran's Day tell us about your favorite solider and how he or she is saving the world. Fictional or real life.
For the first time in weeks I like the FF question again, which is not meant as a criticism to anyone. But this question has allowed me to bring out one of my priced possessions. It is my great-uncle's journal from when he was in Indonesia. Indonesia used to be a Dutch colonie and after the Second World War they wanted their freedom. The Dutch desperately wanted to keep it and send in soldiers. The Dutch did not want to be seen as tyrants and to this day say it was a police action and not a military attack.
Two members of my family went to Indonesia and found it exceedingly hard to deal with the pressure in the Netherlands once returning. This journal is not a typical journal. These are "entries" are party actualy diary entries and partly written postcards addressed to my granddad, who typed them up later on. What is very touching is how clearly he expresses his doubts and feelings conerning their mission, their enemies and their superiors.
'Originally opposed to the Dutch, he now said that without our help the problems in his country would be insurmountable. "We have to side with you," he said. "but the future must be a free and independent Indonesia!" I told him that in my country we had a compulsory education system and that they should enforce this here as well. He had never heard of such a thing and became very enthousiastic. I thought he was simply an amazing fellow and started to apprehend how it must feel to have such ideals for your country. At the same time something inside me wept. Would I have to kill a man like him in the future, a man with ideals who happened to be on the wrong side?'
I think that is simply beautiful writing. The translation from Dutch might be a bit wooden here and there, but that is because it's mine.
Now, for the
Friday 56
!
Rules:
*Grab a book, any book.
*Turn to page 56.
*Find any sentence that grabs you.
*Post it.
*Add your (url) post in the
Linky
.
The Book I am ransacking this week is my copy of 'The Oxford Book of Ballads'. On page 56 we find ourself in the middle of the ballad 'Kemp Owyne'. Because it is a ballad I decided to post an entore stanza instead of just a sentence, This is stanza 11:
'Her breath was strang, her hair was lang
And twisted thrice about the tree,
And with a swing she came about :
'Come to the craig, an' kiss with me!'
The story of this ballad is that the heroine is turned into a dragon by her wicked stepmother and the enchantment will only end if kissed three times by the king's son.
And now on to the last meme of today:
Book Beginnings
over at
A Few Pages More
.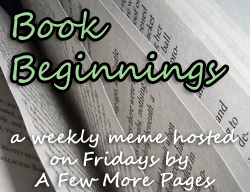 How to participate:
Share the first line (or two) of the book you are currently reading on your blog or in the comments. Include the title and the author so we know what you're reading. Then, if you would like, let us know what your first impressions were based on that first line, and let us know if you liked or did not like the sentence. The link-up will be at
A Few More Pages
every Friday and will be open for the entire week.
I grabbed a book randomly from my room and fate chose: 'A Thousand Splendid Sunds' by Khaled Hosseini. I was personaly very happy with fate's choce because I want to incorporate more books that are not European in this blog, since it is calle A
Universe
in Words, not Europe in Words.
'Mariam was five years old the first time she heard the word harami. It happened on a Thursday.'
'Harami' means bastard, which immediately sets the tone for the book. I was really touched by the book and I think the first sentence is great. As an outsider you do not immediately know what the word means and you will have to research it or hope it will be explained later on in the book. And for everyone who has not read it: Mariam is a beautiful character, as is her name.
So, how about you?
Happy Rememberance Day everyone!