The Follow Friday and Book Blogger Hop questions aren't that interesting this week so I decided to go a bit wild.
If you have checked out my blog before you might remember this one:
What To Do In The Weekend: Scriptwriting.
Just to recap shortly: I have taken it upon myself, with some help from the family, to create a 4-movie script out of my favourite two childhood books: Brief aan de Koning and Geheimen van het Wilde Woud. Its protagonist, Tiuri, has to deliver a letter to the king of Unauwen, but the Black Knight is trying to stop him at all costs. In this post I had outlined two different locations for the two different kingdoms. I think it is good to have an image in your head when you are writing.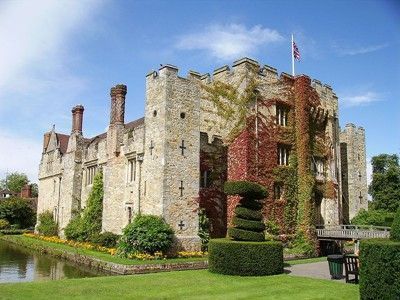 One of the most beautiful locations in the book is Isadoro's castle. Isadoro is a beautiful Lady whose loyalty unfortunately falls on the wrong side of good. Her castle is described beautifully and especially her gardens are amazing. Yesterday I was waiting in a hotel lobby, do not ask me why, when I found a flyer for Hever Castle.
It has a moat, which would be perfect to withstand the siege in the last movie. There is wood on the inside, which fits the book and i like to be true to the book. What would make this castle perfect as well is its history. Anne Boleyn grew up here and she if anyone was a strong woman it was her. Now, for t
he gardens: these are simply beautiful. The roses would be perfect to represent Isadoro's character since she can be quite stingy.
Overall, this seems to be the perfect castle for me or for Isadoro really.
So what are you planning on doing this weekend?