Follow Friday is hosted by
Alison Can Read
.
Q: What is the best book you've read in the last month? What is the worst book you've read in the last month?
The best book I have finished reading in the last month is probably 'Marina' by Carlos Ruiz Zafon. It is one of his first "adult" books and you can clearly see his style developing. I am reading great books at the moment such as '
The Night Sky: A Journey from Denver to Dachau and Back
' by Maria Sutton and 'Eye of the Wizard' by Daniel Arenson. I haven't really read any bad books lately. Let me have another think.... no, not really. I read the Daily Mail yesterday, don't ask me why. But that was pretty bad. You know your newspaper is bad when someone who doesn't have English as her first language can pick out spelling mistakes!
This weeks I am using 'The Doll's House', a play by Henrik Ibsen.
Book Beginnings
hosted by
A Few More Pages
:
A room furnished comfortably and tastefully, but not extravagantly. At the back, a door to the right leads to the entrance-hall, another to the left leads to Helmer's study. Between the doors stands a piano. In the middle of the lefthand wall is a door, and beyond it a window. Near the window are a round table, arm-chairs and a small sofa. In the right-hand wall, at the farther end, another door; and on the same side, nearer the footlights, a stove, two easy chairs and a rocking-chair; between the stove and the door, a small table. Engravings on the walls; a cabinet with china and other small objects; a small book-case with well-bound books. The floors are carpeted, and a fire burns in the stove. It is winter.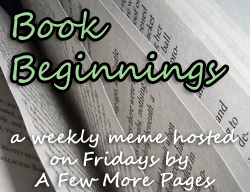 Friday 56
is hosted by
Freda's Voice
:
Nora: I don't know; I think there is; but you must not read
anything of that kind now. Nothing horrid must come between
us until this is all over.
Rank: (whispers to HELMER). You mustn't contradict her.
Helmer: (taking her in his arms) The child shall have her way.
But tomorrow night, after you have danced—
The fact he calls his wife a 'child' disgusts me, but that is the entire point of the play, which is one of the first to show a woman becoming independent.
So, what about you? What bad books have you read?