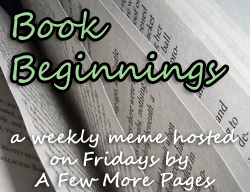 It is another Friday and we are getting closer and closer to Christmas. I just realised, starting this post, that I forgot posting about Sinterklaas. I really wanted to because I love it, but I was so busy celebrating and unwrapping presents :P
First up: Book Beginnings, hosted by
A Few More Pages
My dad bought himself a copy of Ayn Rand's 'The Fountainhead', which got me really excited. I always told myself I should read more early 20th-century writing, because it is truly different from contemporary literature. Also, Rand is a terribly interesting writer. Here are the first sentences:
'HOWARD ROARK LAUGHED.
He stood naked at the edge of a cliff. The lake lay far below him. A frozen explosion of granite burst in flight to the sky over motionless water. The water seemed immovable, the stone flowing. The stone had the stillness of one brief moment in battle when thrust meets thrust and the currents are held in a pause more dynamic than motion. The stone glowed, wet with sunrays.'
Is that not simply some oft he best writing ever? And those capitals are her capitals.
Friday 56 is hosted by
Freda's Voice
.
'But he'll say that he's very sorry, only the commission has just been given to Guy Francon. And you'll go home, and do you know what you'll do there? You'll cry. You'll cry like a woman, like a drunkard, like an animal. That's your future, Howard Roark. Now, do you want it?'
Now I am really intrigued at what is going to happen in the book!! Aaaargh my dad needs to finish it now so I can start reading it!
This weeks' Follow Friday question has to be one of the easiest ever. (Hosted by Alison Can Read)
Q: Keeping with the Spirit of Giving this season, what book/s do you think EVERYONE should read and if you could, you would buy it for all of your family and friends?
Eerm, I don't like telling people what to do, so I'll just make some suggestions.
Harry Potter: most definitely a book you should read. Also, a great book to read to your kids and I say this from experience.
The Lord of the Rings: I think that if you have a liking for dramatic, epic stories you should definitely read this. It is not only a great story, but once you read it you will start to see how the fantasy-genre developed.
The Angel's Game/ The Shadow of the Wind/Prince of the Mist: you are really missing out if you have not read anything by Carlos Ruiz Zafon you are definitely missing out. If you don't like massive use of adjectives or a lot of pathetic fallacy (weather reflecting a character's mood) then maybe this isn't your writer. But if you have a taste for epic romances, thrilling adventures and amazing twists then you should definitely start reading these books: NOW.

Nineteen Eighty-Four

: Suggested by my friend Sophia, who is hilarious, check her out on

Youtube

!!! She says it is a brilliant book that has changed the world. Apparently it is also magical. I guess she'll have to give it to me for Christmas because I have not read it yet. Also, Orson Welles is pretty good anyway. (Sophia is caressing a pickled egg, should I worry??)

Persuasion

: This is one Jane Austen's lesser known works, but my favourite, next to Pride & Prejudice. Anne Elliot is one of her best heroines even though she is perhaps a bit weak compared to modern day heroine.

Wuthering

Heights: this is my favourite Bronte-book. Although 'Jane Eyre' is good, I think 'Wuthering Heights' is much more passionate and the lovestory between Catherine and Heathcliff is just enticing. I don't want to go into more detail because otherwise I will never be done!

Iliad

: when it comes to massive and world changing works this is pretty much it. The mistake many people make and that I can get very annoyed about is that people think the Iliad is about Helena and Paris. The story of the Trojan War is indeed about those two, but the Iliad is only about Achilles and stops once he dies. Nice to have cleared that up! :)

The Hungry Catterpiller

: another Sophia favourite.She still holding her egg! HELP??!?? (Seriously though, check her out on

Youtube!






Check out some of my posts this week:




So, how about you? Favourite books??