Teasers and 'The Night Circus' by Erin Morgenstern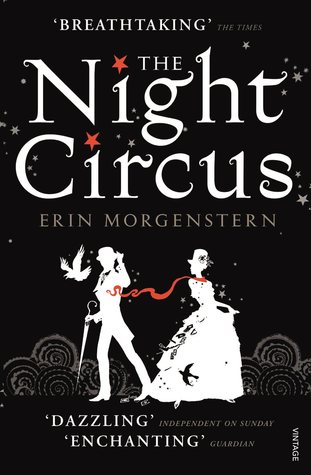 Yesterday the literary gods smiled down upon me as I walked into a secondhand bookstore and managed to find a copy of the book I have had my eyes on for forever! Yes, there, tucked into a corner was a copy of Erin Morgenstern's
The Night Circus
.
The circus arrives without warning. No announcements precede it. It is simply there, when yesterday it was not. Within the black-and-white striped canvas tents is an utterly unique experience full of breathtaking amazements. It is called "Le Cirque des Reves," and it is only open at night.
But behind the scenes, a fierce competition is underway--a duel between two young magicians, Celia and Marco, who have been trained since childhood expressly for this purpose by their mercurial instructors. Unbeknownst to them, this is a game in which only one can be left standing, and the circus is but the stage for a remarkable battle of imagination and will. Despite themselves, however, Celia and Marco tumble headfirst into love - a deep, magical love that makes the lights flicker and the room grow warm whenever they so much as brush hands.
True love or not, the game must play out, and the fates of everyone involved, from the cast of extraordinary circus per-formers to the patrons, hang in the balance, suspended as precariously as the daring acrobats overhead.
Intro:
'ANTICIPATION
The circus arrives without warning.No announcements precede it, no paper notices on downtown posts and billboars, no mentions or advertisements in local newspapers. It is simply there, when yesterday it was not.
The towering tents are striped in white and black, no golds and crimsons to be seen. No color at all, save for the neighbouring trees and the grass of the surrounding fields. Black-and-white stripes on grey sky; countless tents of varying shapes and sizes, with an elaborate wrought-iron fence encasing them in a colorless world. Even what little ground is visible from outside is black or white, painted or powdered or treated with some other circus trick.' p.3 (first page)
I love this opening! There's something quite mystical and enticing about it which totally reminds me of the few times that the circus or a fair came to my town. There's just a buzz that goes through everyone at seeing that kind of revelry and excitement!
Teaser:
'She [Celia] cannot read the tarot well herself, there are always too many possibilities, too many meanings. But once Isobel pointed out specific elements, she could see the complicated emotion, the impending revelation. She is unsure what to make of it, though despite her skepticisim, she hopes it means she will finally be certain who her opponent is.' p.199
So this is a bit of a long teaser but I simply couldn't decide where to possible break the quote! Also, I recently got myself a set of tarot cards so I love it when they pop up in books. Hopefully I'll learn something from it. Also, who is this opponent? I need to start reading!

Have you read The Night Circus? I love the sound of Morgenstern's writing so far so I can't wait to get into it! What are you teasing today?